Sun-kissed seashores have been known to curate everlasting memories for visitors, locals and explorers. People who wish to experience the sunrise, sunbaths, beach activities, sunsets, romantic dinners and beachside events. And to experience all these and more, travellers and visitors always look out for listicles which could sort out their search.
If you are planning for a beach vacation, we give you the best beaches in the following countries. Thank us later for this listicle.
1. Azerbaijan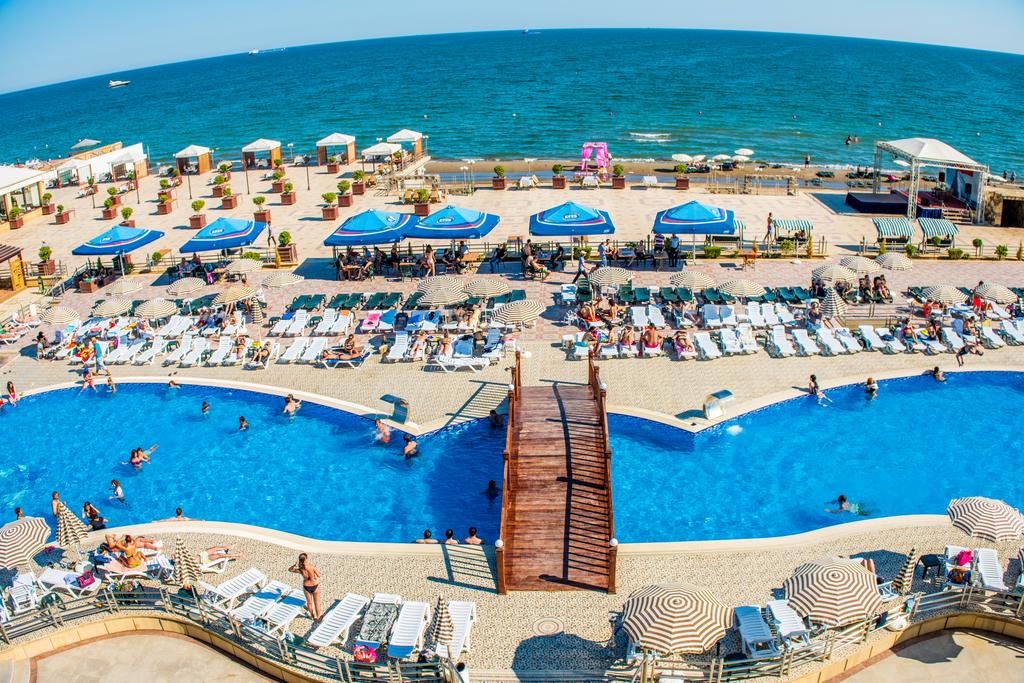 This recent child on the tourism block has breathtaking views which are still raw and uninterrupted by humans. Azerbaijan rests with amazing beach line giving tourists and locals reasons to visit and enjoy the Absheron's Peninsula northern tip. Away from Baku, Bilgah Beach is a public hot spot and attracts lots of visitors to the beach clubs here. The access to the beach is fee-free but you might have to pay for lounges. You can hire a local vehicle to reach Bilgah as it is 40 km away from Baku. Just a few steps away is the Amburan Beach Club where you get to relax on the orange sands of the Caspian Sea. Amburan Beach Club is loaded with changing rooms, bars, restaurants and water sports types of equipment like jet skis and kayaks. If you wish to drop at a beach near Baku, Shikhov Beach is your spot. This place provides facilities like lounges, swimming pools and changing areas. 
2. Cambodia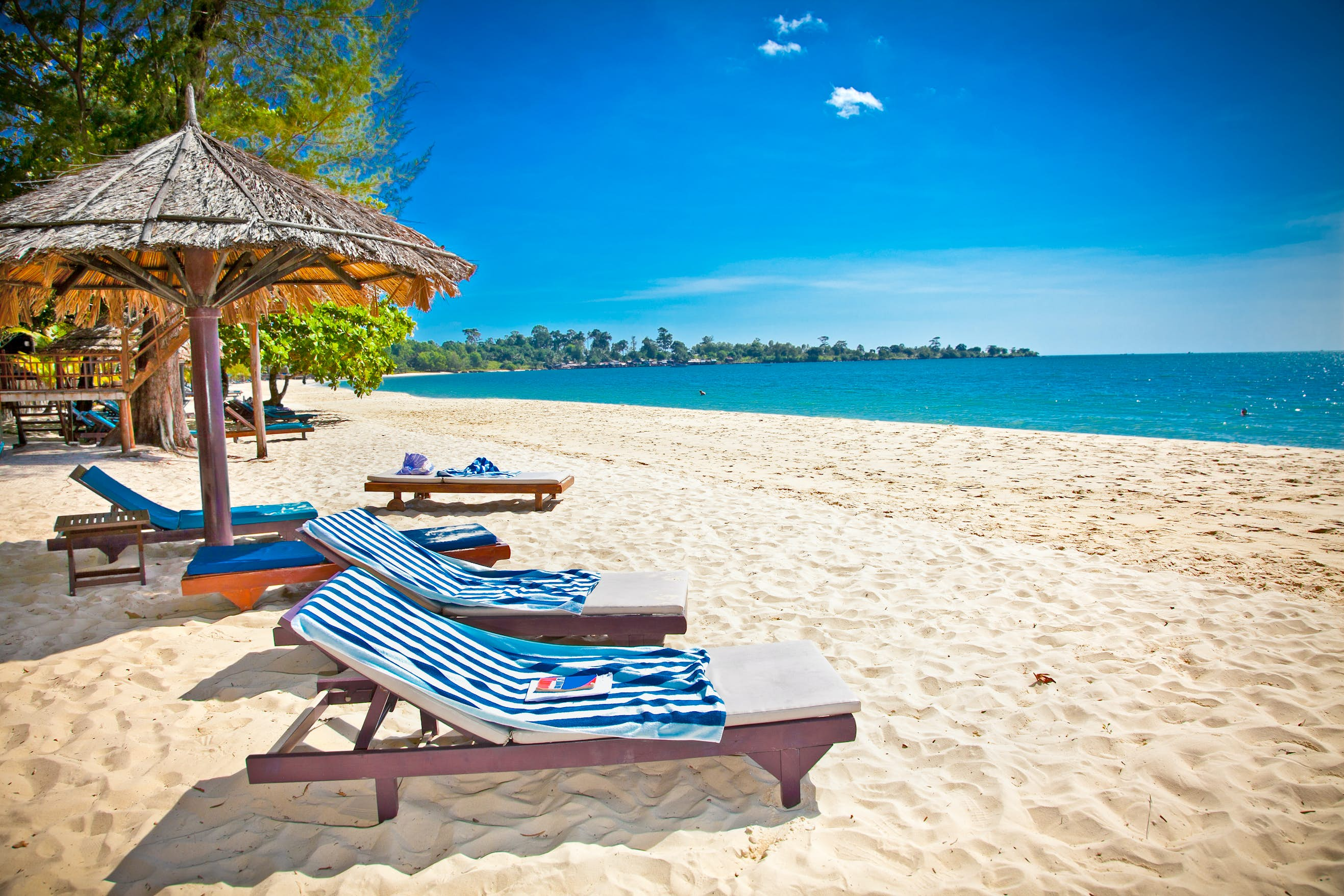 Cambodia has gained its identity post cruel wars against regimes. Today Cambodia is peaceful and offers quite many beaches that are untouched and unheard. Coral Beach, Koh Ta Kiev is the best spot to enjoy undisturbed beach line here. You will find palms lined up to make your way to open waters that are clean and sands that shine during sunrise and sunset. With offerings like food, accommodation and drinks, Coral Beach is just the perfect peaceful spot to admire nature. If you wish to experience a beach spot with modern facilities like wifi, AC and swimming pools, Otres Beach, Sihanoukville is a perfect choice. This place has started building up so you will find bars, restaurants and hotels here. But you should not miss the bamboo huts and hammocks under the palms. Sner Beach, Koh Kong is for those seeking isolation on the beach sands. You will find very fewer people here but in the evening, bar-be-ques make the experience unique.
3. Egypt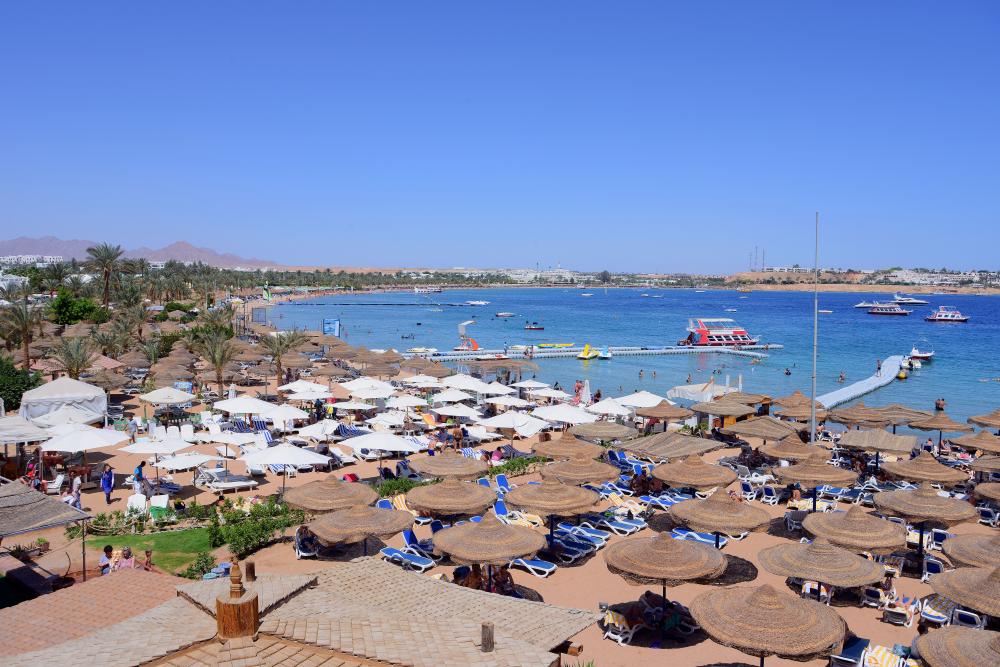 Egypt is a land of mysteries and secrets covered under its sand. Visitors are often attracted to its 5000-year-old civilization and ancient engineering techniques of the pyramids. The epicentre of the most beautiful beaches in Egypt is Naama Bay. This beach engulfs amazing beach clubs with huts spread over the white sand. When the weather is clear in winters, visitors enjoy captivating views of the Gulf of Aqaba and Saudi Arabian mountain coastline. Naama Bay is loaded with coral reefs waiting to be discovered. Snorkelling, diving and many other beach activities are the highlights of this region. You can find both public and private beach spaces here. If you wish to learn how to dive, visit Dahab Lagoon. Snorkelling sessions are paired with diving ones that make your experience unique and endearing. Located perfectly at the South Sinai's Shoreline, this place is beautifully nested with Sinai Mountain Range. It is also home to one of the most luxurious stays in Egypt. If you are looking for more authentic beachline that evokes the traditional Egypt style, the Nuweiba-Taba coastline is your pick.
4. Georgia
Beaches in Georgia are close to major cities making beach getaways a lifestyle in this country. One of the most happening beaches in this country is North Beach, Tybee Island. This place has a perfect combination of clean sands and culture of nearby historic cities. It offers many landmarks to be visited like historic ones, shopping districts and famous lighthouses. Another beach spot that can be approached only through ferries is the Cumberland Beach Island. It is the largest barrier island in the country. You will be accompanied by feral horses who occasionally visit here. Driftwood Beach, Jekyll Island is highly Instagrammable. The island offers rich cultural and natural beauty. Towards the north of this island, you will come across many driftwood trees that stand to narrate their journeys. 
5. Kenya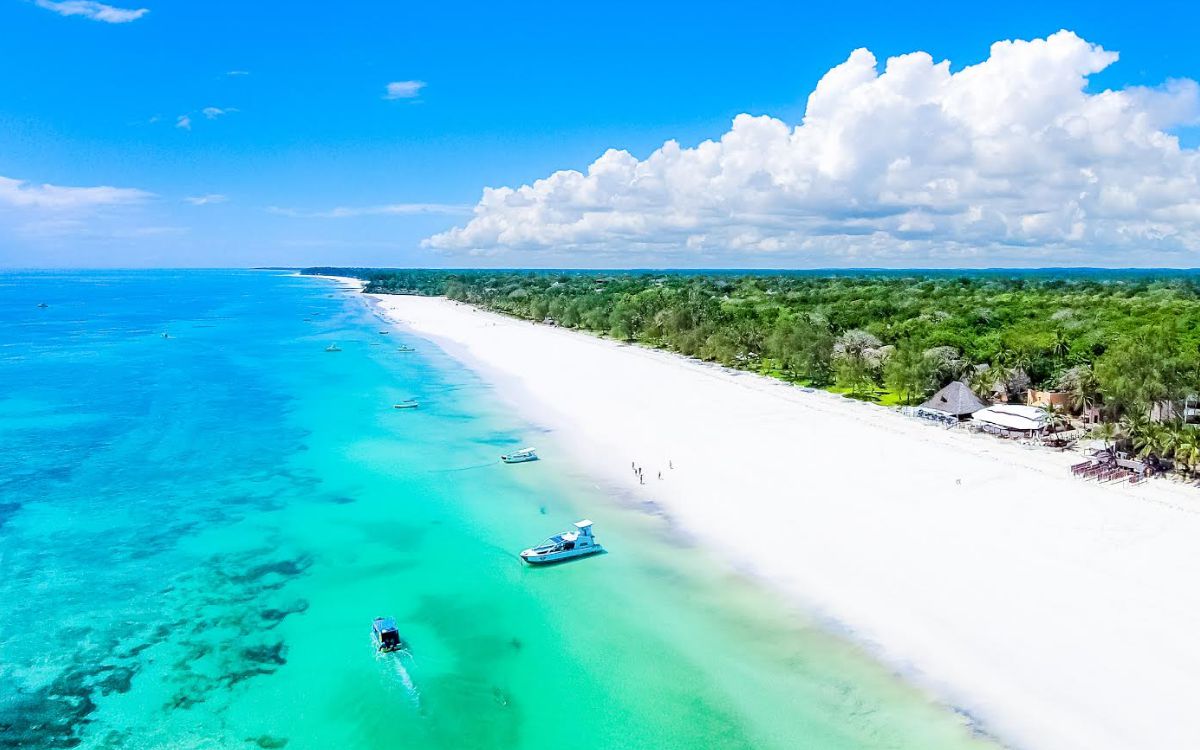 The shoreline of Kenya is dotted with tropical beaches having their unique characteristic. Diani Beach is one of the most famous beaches in Kenya. Located towards the south of Mombasa, this beach has one of the most beautiful coral reefs in the world. Swimmers and surfers will have a delightful experience here. Its widespread palm vegetation makes visitors come back for more. Travellers looking for snorkelling and scuba diving, Bamburi Beach is your pick. Located towards the north of Mombasa Coast, this beach has its charm with camels overlooking the endless shores. Nyali Beach is for those seeking isolation and peace while relaxing on the shoreline. While you swim or bask in the sun, your privacy is well guarded here.  
6. Kuwait
A small country tucked between Iraq and Saudi Arabia, the beach line of Kuwait is a gift of the Persian Gulf. Beaches and beach clubs here are decorated with loads of outdoor activities keeping the visitors engaged. Salmiyah Beach is the most famous here. To make the best of your beach trips, you should visit as this site has a large play area along with a skate park and basketball courts. Lined up with green plants and comfortable benches, this eco-friendly beach is a must for beach lovers. Wanasa Beach located on Failaka Island is one of the most important tourist spots in Kuwait. Camel rides, historic ruins of the Iraqi invasion, accommodation and Greek ruins are some of the glimpses you can catch. You need to get on to a ferry to reach here. Salwa Beach is quite prominent here in terms of rock mountains. It has large play areas so kids are going to love it. 
7. Malaysia
Nature has blessed this country with abundant natural rainforests and corals. The most important beach attraction is on the Perhentian Islands. Snaking through thick jungles, you can make your way to age-old corals and thick beds of marine life here. Snorkelling, kayaking and scuba diving are top beach activities here. And if you slightly adjust your budget, jungle trekking is the icing on the cake. Kota Kinabalu is another beach spot that is dotted with virgin rainforests, white sands and healthy coral reefs. Air Papan is one of the most popular beaches in Malay Penisula giving you peaceful beach vacation.  
8. Oman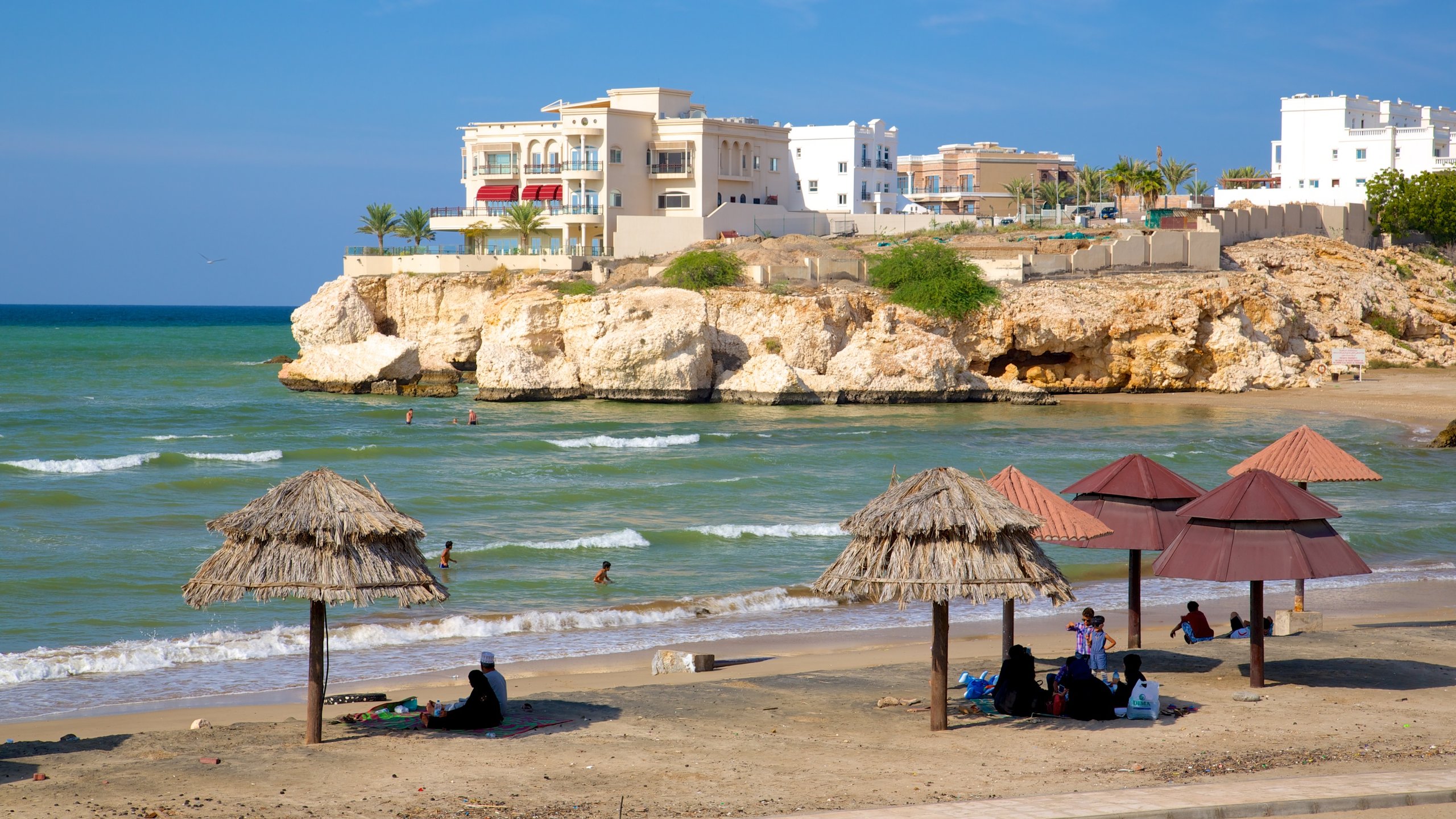 Oman is the most famous tourist destination for unforgettable beach vacations. One of the most loved beaches in Oman is Al Qurum Beach. With cafes, restaurants and clean sands, this beach is sure to give beautiful experiences. Located in the capital city Muscat, Al Qurum Beach is quite close to shopping malls and restaurants. This makes it one of the busiest beach spots in the country. Visitors looking for a picturesque paradise, Al Mughsayl Beach is blessed. Located in southern Oman, this beach has unique features like crystal clear water, golden sand, coconut and banana plantations. Bandar Jissah is another beach that stands out of the bunch. This should be a must on your list as it rests with rocky hills that are formed naturally with orange glow in the sunlight.
9. Russia
Being a huge continent, Russia has endless beaches that stretch from east to west. Khalaktyrsky Beach is the most enchanting shoreline. A combination of black sand and azure waters makes this beach irresistible. Due to continuous volcanic eruptions, the sand is deep black. This beach is facilitated with restaurants and surfing activities. Riviera Beach is for families to spend good quality time. This black stone beach is quite busy as it offers various eateries and activities like banana boat rides, parachute flights, hydro-cycle rides and trampoline jumping. Kitesurfers can hit Laskovy Beach. Its is backed by huge and dense pine forests.  Sparkling azure waters kiss the beach leaving a unique experience of natural beauty and local cuisine.
10. Saudi Arabia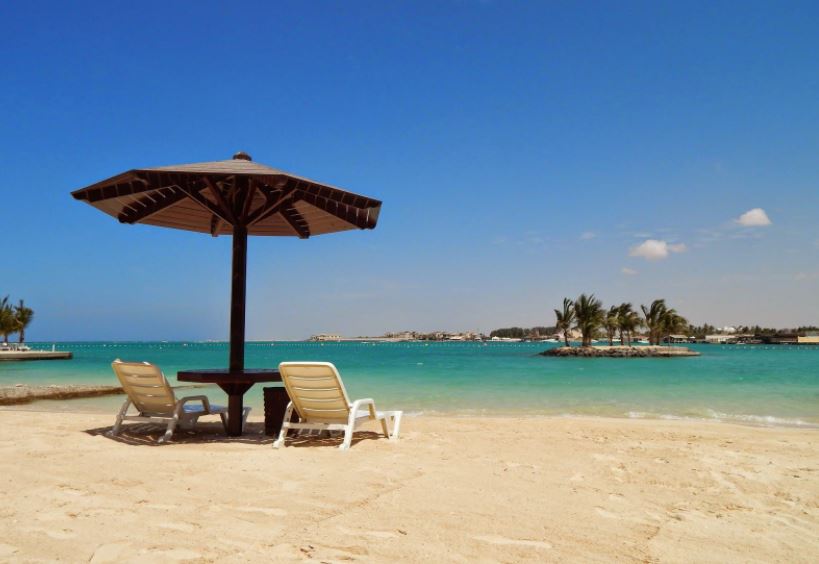 Saudi Arabia is quite conservative and female travellers have to be a little cautious while visiting this region. The dress code is an area of concern despite the recent revival of travel policies. Women are allowed to wear burkini while men have to make sure their knees are covered while visiting beaches. It is always recommended to gain information before visiting for a smooth beach vacation in Saudi Arabia.
Farasan Al Kabir Beach is the most desirable beach location. Quite waters, abundant underwater flora and fauna, excellent diving spots make this beach highly contagious. For travellers seeking some relaxing time to spend with oneself, hit this palace. For those looking out for adventures, Haql Shipwreck Beach is your pick. And for those who don't, do not skip this one. While you are completely left in awe by seeing the half-sunken Greek shipwreck, your Instagram feed will thank you for this. The locals and the visitors do not miss out this fascinating sight which has lasted for more than 20 years. Half Moon Bay Beach has been gaining popularity for quite some time now. Due to its lunar shape, it has gained its identity. Shallow waters clear views make it ideal for family beach vacations.   
11. Sri Lanka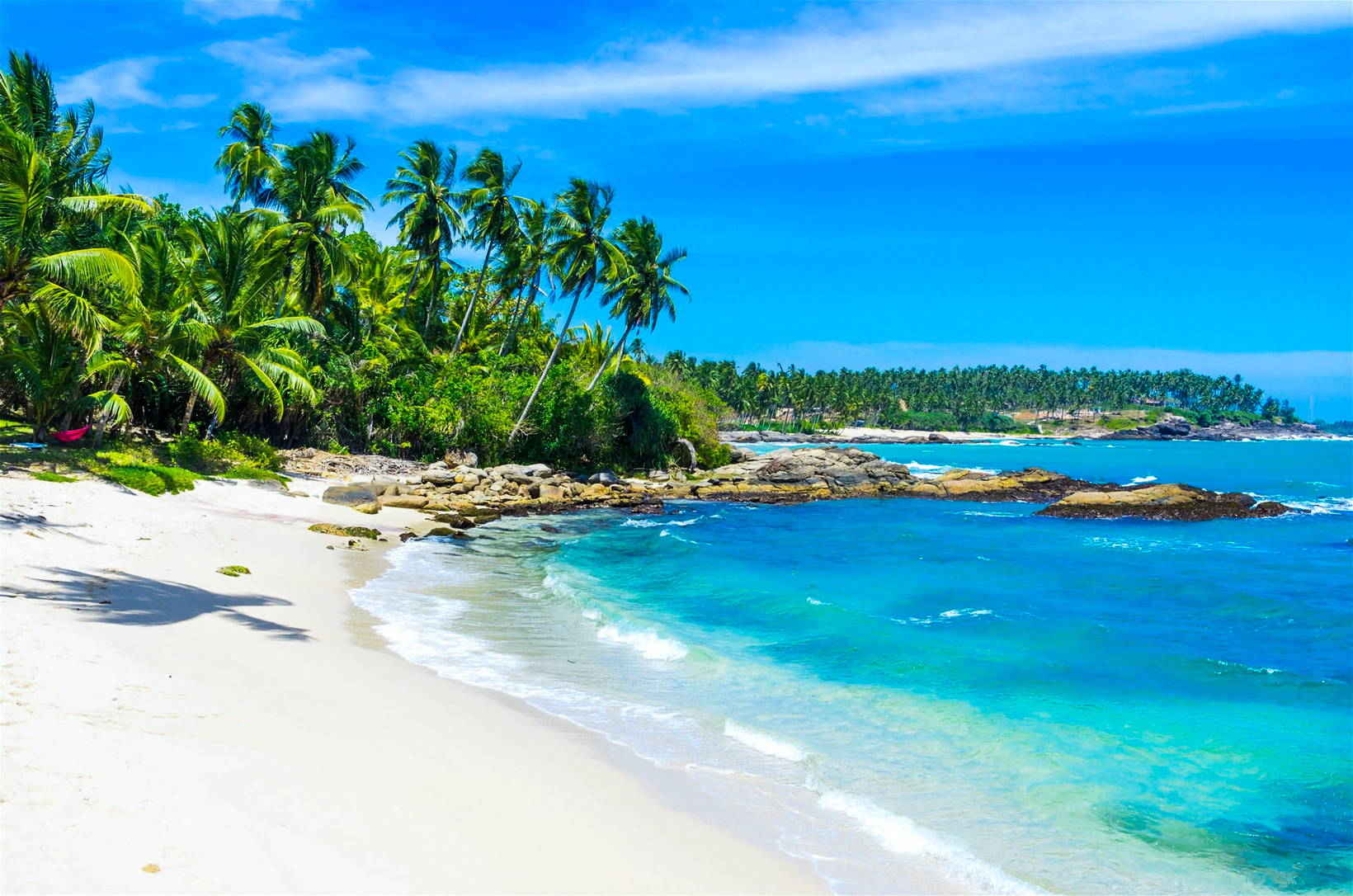 An island that has geological advantages to give visitors world-famous beaches. Weligama Beach is the most beautiful beach in Sri Lanka. It is quite famous for Instagram feeds. You can enjoy swimming here without the fear of sharks. You and your squad can have a lovely time here. Galle Beach is one of the most visited beaches in Colombo. The locals swear by the colonial architecture that decorates the shore. The aroma of local spices adds worth to your visit. This beach is mostly loved by artists and writers. Induruwa Beach is famous for beautiful beaches and villages settled by the shore. You can visit the warm locals here and spend time admiring the beauty they are surrounded by. You can also take Ayurveda wellness sessions here that is quite famous in the country. 
12. Thailand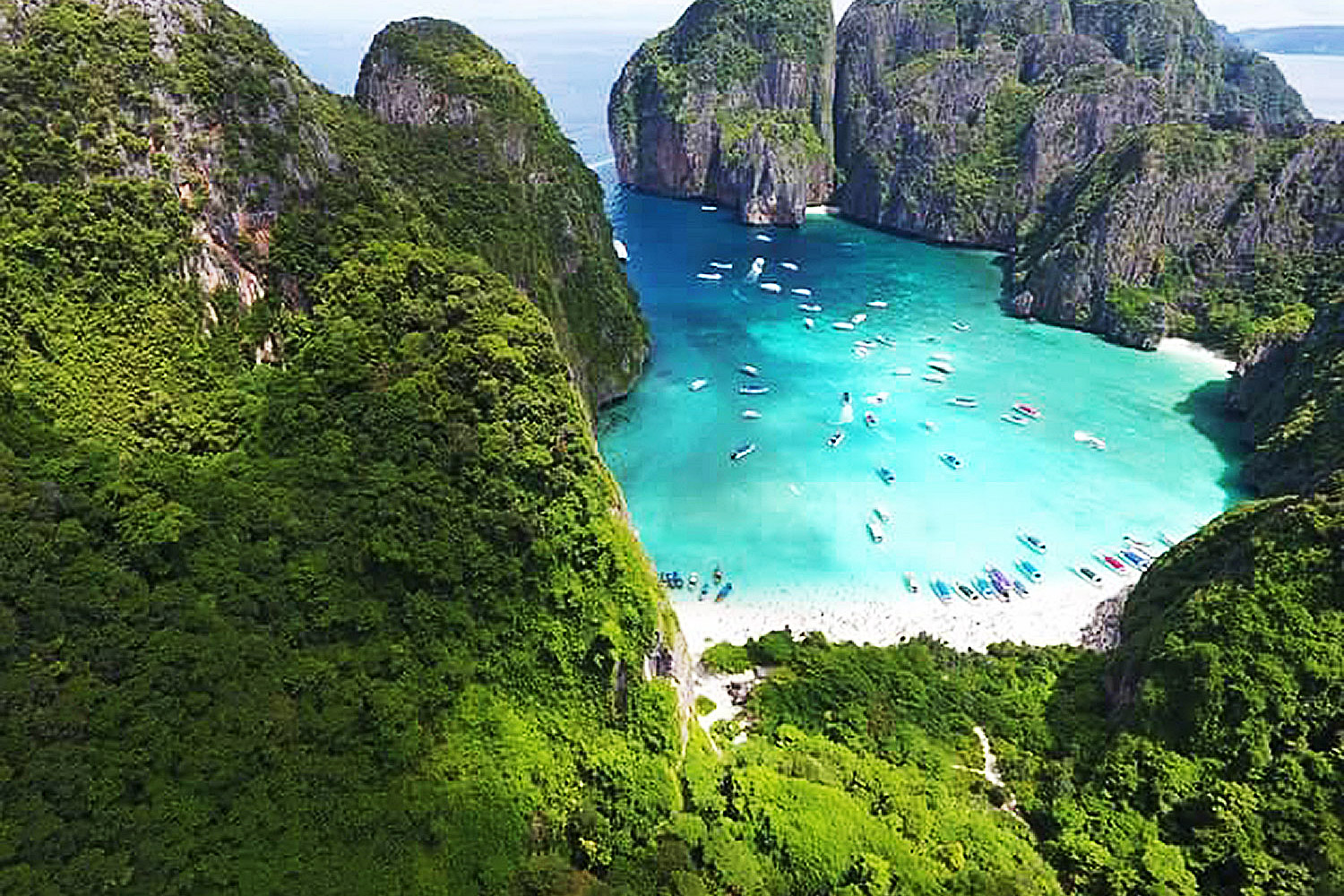 This country is no short of stunning shorelines with the Andaman Sea and Gulf Coast. Thailand's most sublime beaches are Maya Bay, Koh Phi Phi. You will find this beach visually magical. The entire set up is of sparkling clear waters with the background of dense jungles. Morakot Cave is captivating here. A small opening in the green-carpeted craggy rocks opens up to a sublime lagoon. It is only accessible through this cave that you can experience a cave from a shoreline. This entire setting is guarded by rugged mountains. Railay Beach is a photogenic beach in Krabi. Huge families of bird and monkeys are found here while this stunning set up has cliffs on one side and the Andaman Sea on the other.
13. Turkey
For long, Turkey has been a top beach destination. And because it is so celebrated amongst travellers, Turkey has one of the highest numbers of beach clubs and resorts. Patara Beach is the longest beach in the country. And it encapsulates many attractions nearby. So this beach is also one of the busiest. Patara Beach is facilitated with restaurants, bars and changing rooms. Bodrum Beach is another popular spot to let your hair down. European visitors flock this peninsula to spend summers perfectly. It has picturesque villges on its strip that makes this attraction fascinating. Kaputas Bay has alluring sealine that comes from the Mediterranean Sea. Nestled between high cliffs, this place will surely leave you awe-struck.
14. UAE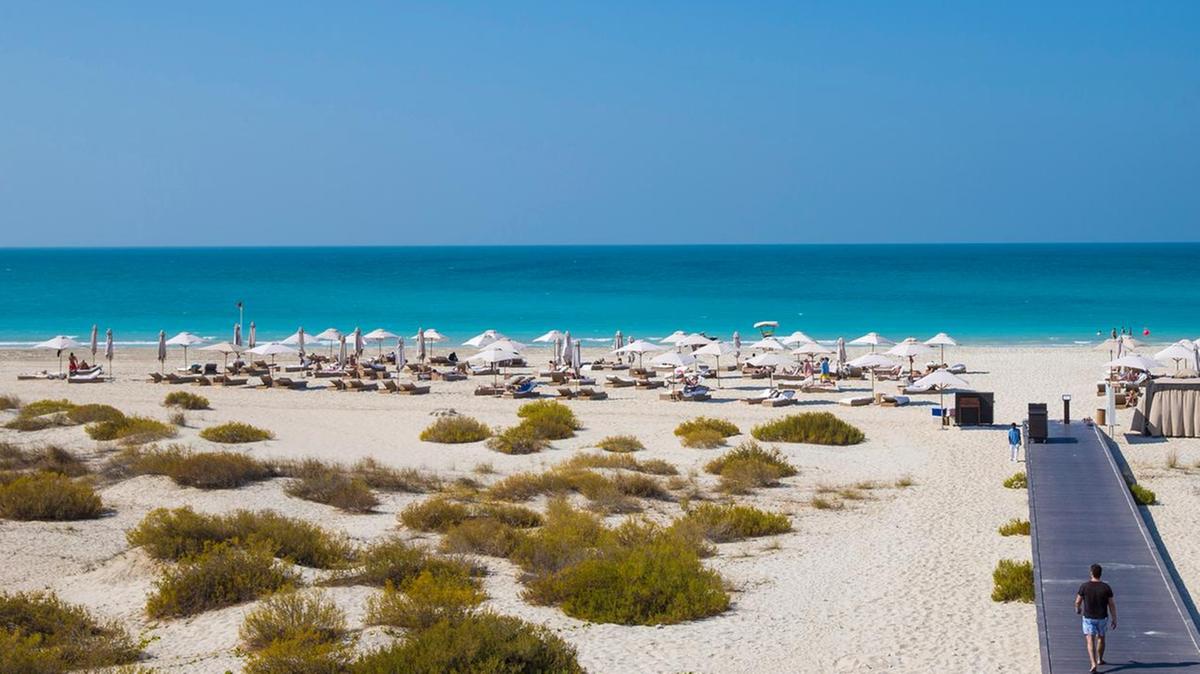 The United Arab Emirates has become the most loved destination in the Middle-East. Its ultra-modern facilities, luxurious lifestyles and lucrative policies have made visitors flock in huge numbers every year. Saadiyat Beach in Abu Dhabi is quite popular amongst both locals and visitors. This beach rests with multiple beach activities and sports. The clear blue water of the Arabian Sea paired with white sand makes a beach holiday worth it. Black Palace Beach located near Burj Al-Arab, is another plush shoreline in Dubai. With Burj Al Arab on one side and the warm azures on the other, your visit to this popular beach in Dubai will be epic. The shallow waters here are safe for kids to explore the beachline. Ajman Beach in the Ajman emirate is another stop-by which is a must. With recreational activities and authentic Arabian food restaurants nearby, you can experience the cultural side of this country here.
15. Ukraine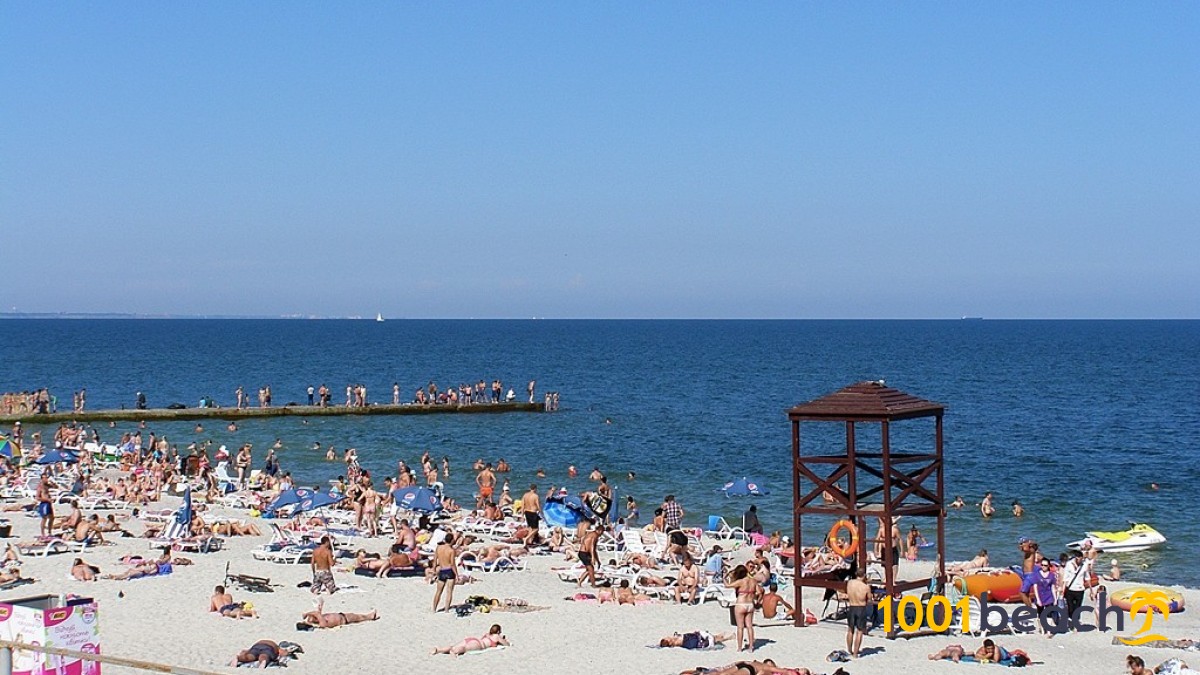 The south of Ukraine is best for beach vacations in summer seasons. Odessa is the most popular beach destination as it rests with multiple locations to enjoy. Lageron Beach has all the facilities like day and night open-air clubs, swimming pools, restaurants, beds, bars and all day and night long parties. Koblevo is gifted to Black Sea coastline that has many entertainment options for kids. You can also find cheap hotels here with restaurants and bars. Berdyansk Beach is a recent discovery in Ukraine. This place is far away from industrial complications. So you get to experience raw and clean beauty of the beach line. It is a two-and-a-half-hour drive from the historical city of Zaporizhia.
16. USA
With a huge coastline and over a dozen islands, the United States of America needs no introduction when it comes to beach vacations. Poipu Beach, Kauai, Hawaii is split into two sides. One is called the Baby Beach where it is safe for kids to have fun and explore the shoreline. While the other side is dotted with beach sports and activities like surfing, snorkelling, windsurfing and boogie boarding. Ocean City Beach is a famous vacation spot. Amusement park rides, do-walk stretch, shops, rental bikes, eateries and treats- all of these make visitors spend a good number of days to learn and live a beach vacation in USA style. Coronado Beach, San Diego, California is most loved for its warm and sunny weather. Grab a bite in a nearby food truck and enjoy while you catch the most loved sunsets here.
17. Vietnam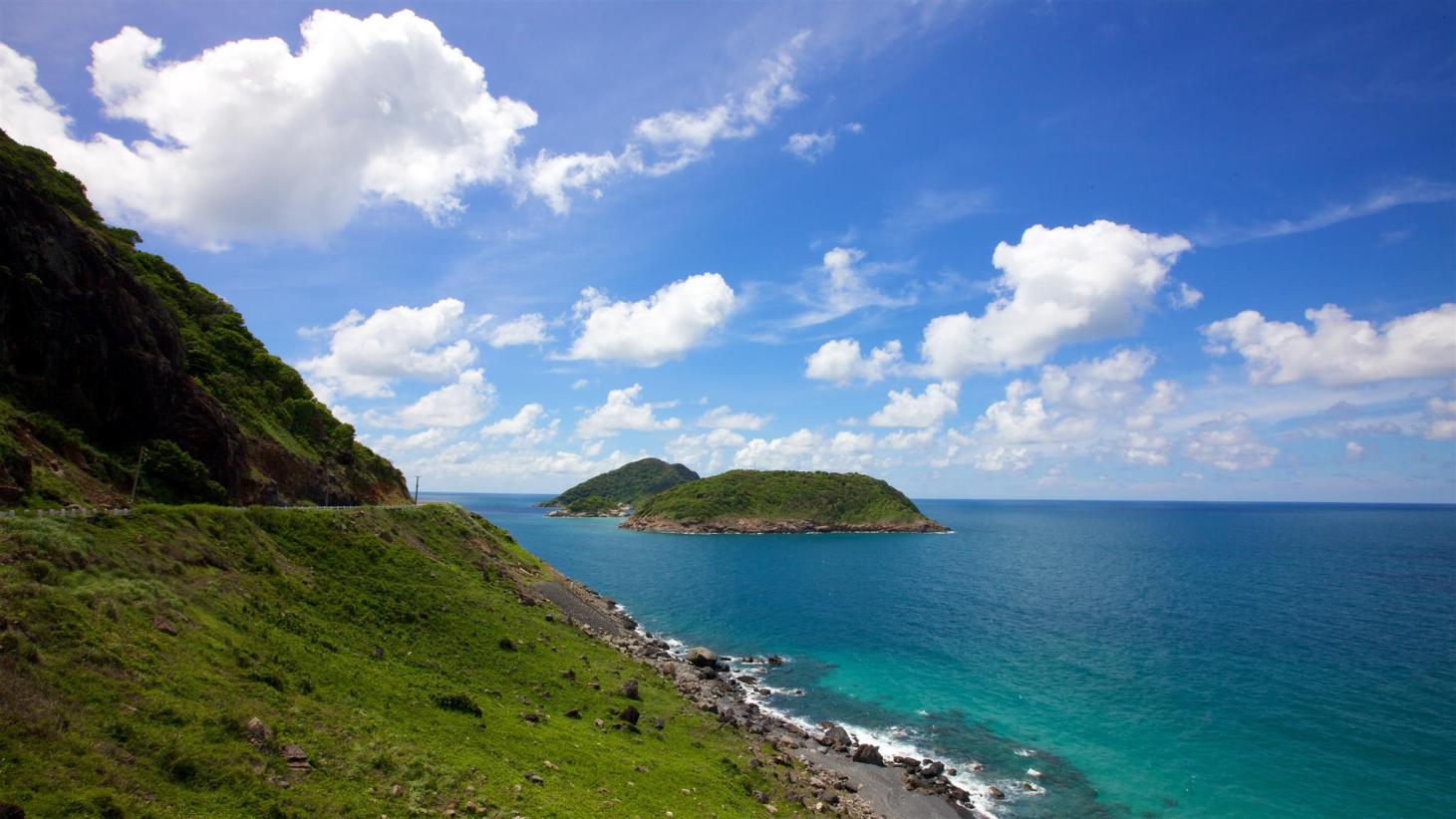 Vietnam has a coastline of 2000 miles plus some islands which makes this country a must for a natural beach vacation. Con Dao is an archipelago of 16 small islands. Diverse marine life, soft sandy beaches and coral reefs are some of the features which attract explorers here. You will find accommodations, some local cuisine restaurants as you commute through the city. Ha Long Bay is a UNESCO World Heritage site and not to be missed. Most of the tourists get glued to Bai Chay and opt for a boat day tour. Phu Quoc is quite near to Cambodia and is the largest and westernmost island of Vietnam. You can enjoy nature trails in the nearby Phu Quoc National Park. Cream Beach is counted as one of the best beaches in the world for its stunning views.  
The above listicle will guide you to plan your beach vacation itinerary. For any assistance, log on to www.ievisa.com.
Travel Safe!