UAE- The unique collection of Emirates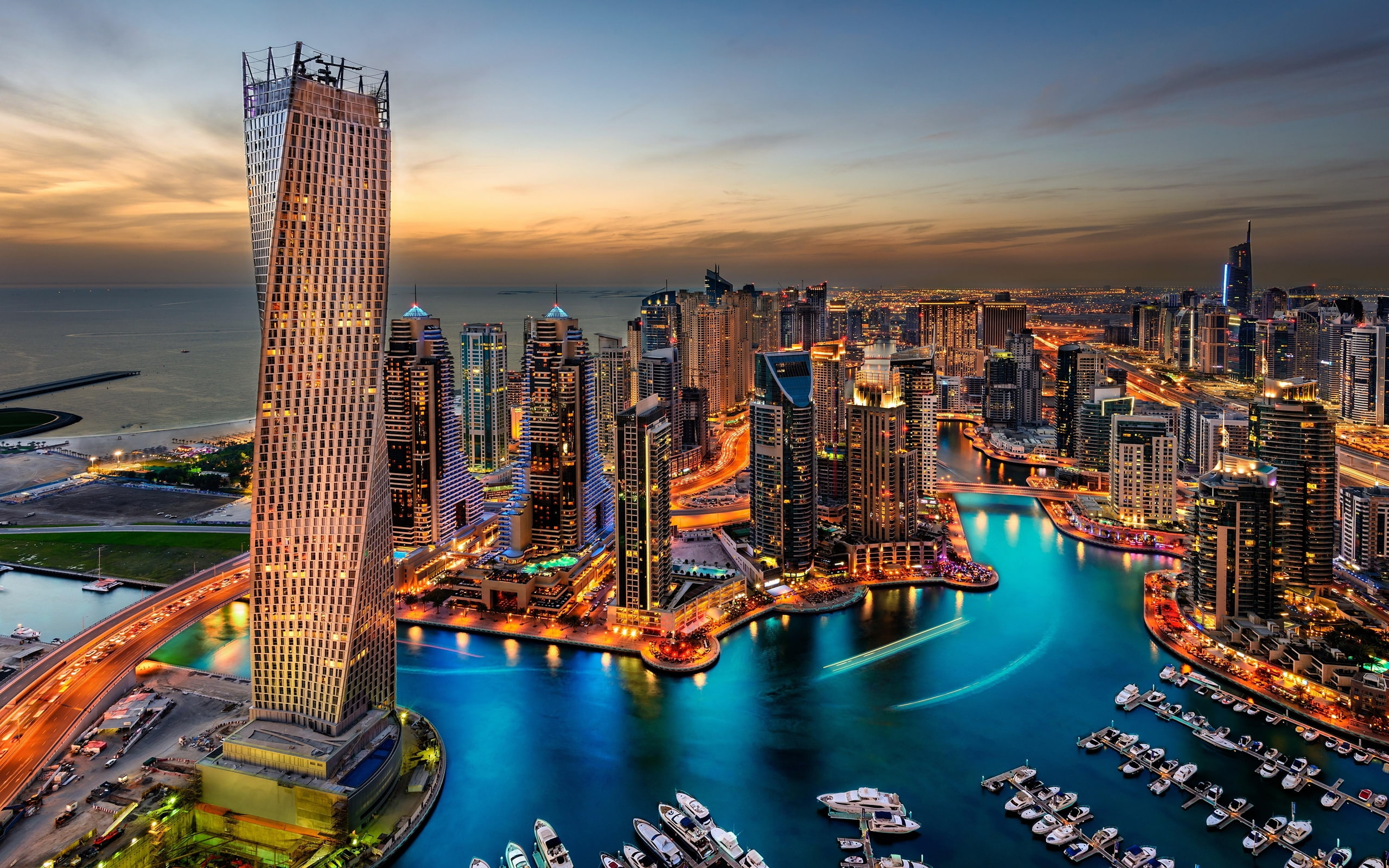 Middle-East continues to stun its explorers with either their architectural finesse or futuristic vision. These reasons make the world flock to UAE year by year. This gem shines not only on the Middle-East but on the global diaspora too.
UAE breathed first in 1971 after the discovery of abundant natural resources under its ground. Its 7 sister states- Abu Dhabi, Ajman, Dubai, Fujairah, Ras-Al-Khaimah, Sharjah and Umm-Al-Quwain staying together are a living example of peace and brotherhood. In the historic pages of UAE, pearl diving, fishing, sea trading and small farming were routine. But today, the skyline of UAE has superstructures narrating stories never told before.
UAE is a hub to millennials hailing from diverse avenues. And so is its culture- varied and embedded with vibrant traditions. From food to travel to business to breaking and creating world records, UAE is nailing it with every dawn.
By now, your travel bug is wide awake. Don't worry. I give you 6 Amazing Things to do in UAE……
Let's backpack to ……
Sheikh Zayed Grand Mosque, Abu Dhabi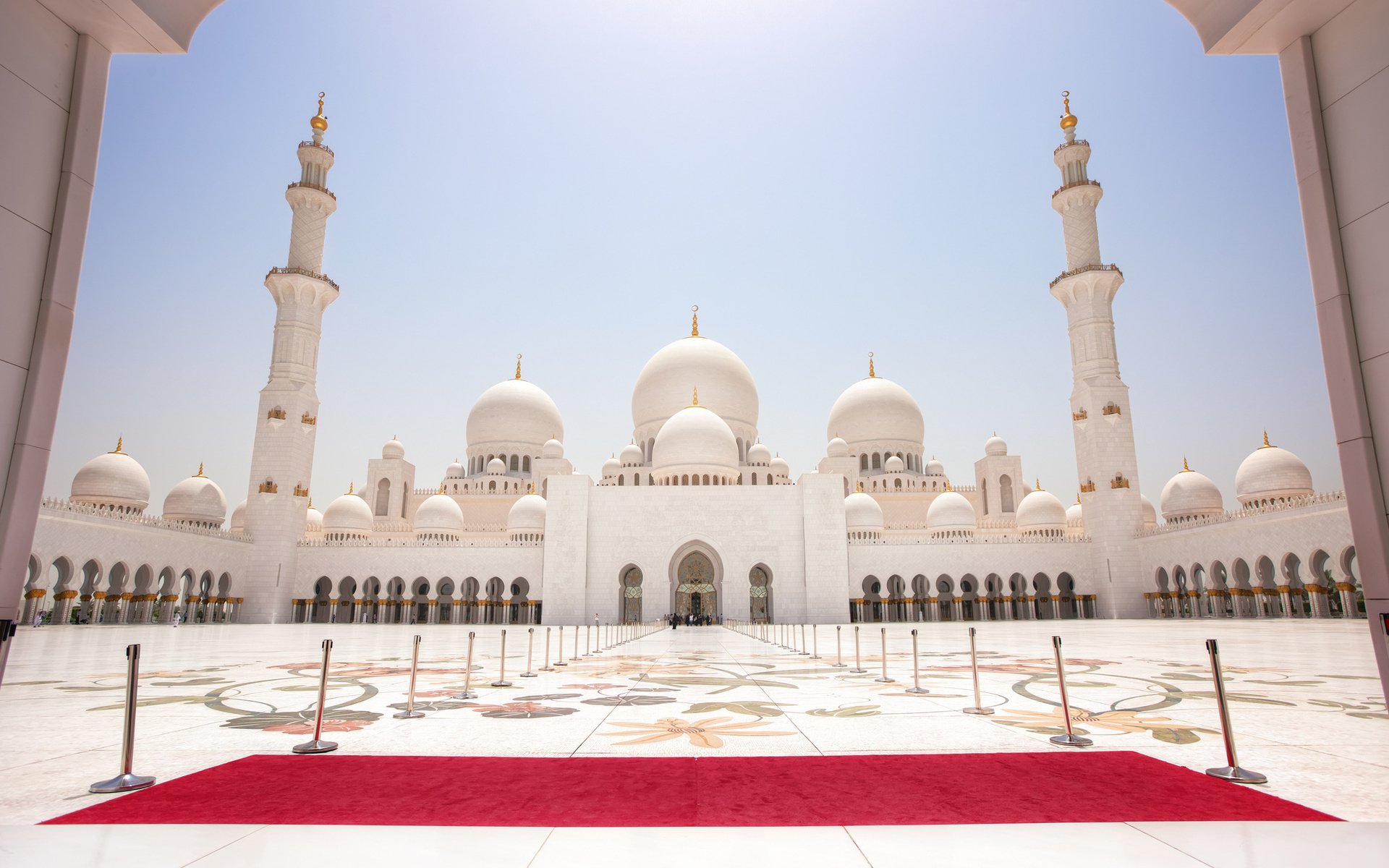 Sheikh Zayed Grand Mosque is a spectacular welcome to the Abu Dhabi city. The grandiose mosque is ornated with sheer white marble, the mosque has 80 domes crowned on 1000 pillars. Elevated from green patios, Sheikh Zayed Mosque is a pièce de résistance of Islamic architecture. Sheikh Zayed Mosque marks the final resting place of Sheikh Zayed, also popularly remembered as the father of the Union of the country. They used pure white marble weighing 90,000 tonnes from the Republic of Macedonia in its fabrication. Exquisite floral motifs studded with semi-precious stones like red agate, Jasper and mother-of-pearl ornate the blissful marble with traditional ceramic details. The impression of the mosque is the Indo-Islamic style and Ottoman style of architecture which is innovative and modern. The main prayer hall is lit up with extravagant chandeliers of brass, steel and gold. The chandeliers glisten with Swarovski crystals and 40 kg of 24 carats of dynamic gold. One of the main attractions of the mosque is the world's largest loomed carpet contrived from Iranian cotton and New Zealand wool. They flew the carpet on 2 aeroplanes from Marshad, Iran.     
Guided tours (English and Arabic) and Audio Tours (available in 11 languages) are available to introduce you to the mosque and its euphuistic presence. Check the website for prayer timings before you visit the mosque. You can opt for timings before or after the prayer for the visit. Islam etiquettes expect you dress decently. Your elbows and knees should be covered. In case you are not appropriately dressed, they will direct you towards the changing room where you can borrow traditional robes to cover yourself. A headscarf is mandatory.
Sheikh Zayed's mausoleum is witnessed as you enter the mosque. Only current presidents have access to the mausoleum to perform prayers. Be careful when you use your lens. They prohibit photography in certain areas of the mosque. Check your angles to covering your click if you find people praying in the mosque. 
Burj al-Arab, Dubai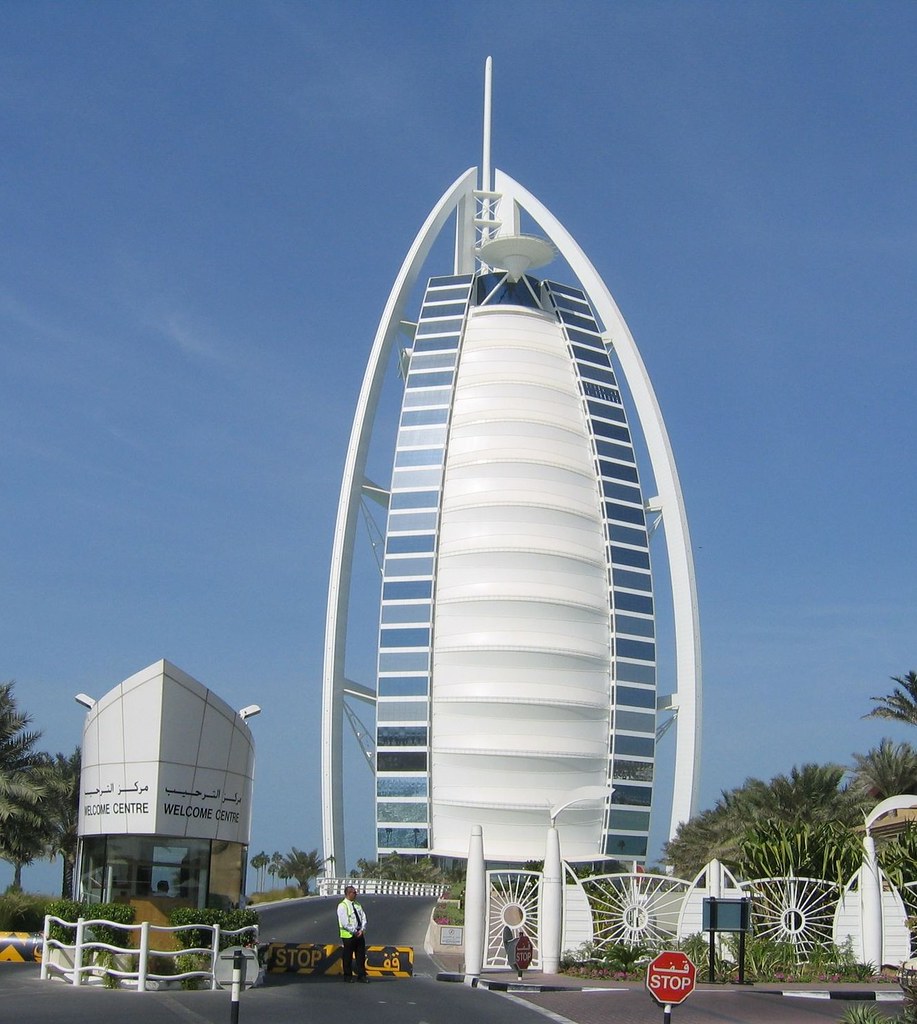 Burj al-Arab is to Dubai is what Eiffel Tower is to Paris. The scenic silhouette of a dhow (traditional wooden trade vessel) rests on a man-made an island. They erected it in 1999 with an aggrandize helipad and a fleet of chauffeur-driven Rolls-Royce limos. Burj al-Arab proudly spoils all its visitors with eloquent luxury. Ahead of its welcome lobby lies 202 suites tailored with royalty and elegance. It holds an atrium lobby tall and large enough to engulf The Statue of Liberty. Pillars draped in gold leaf and colour scheme of the atrium will leave you awe-struck in the nick of time. Expect nothing less than expensive. Bargains is a BIG NO……
Afternoon tea could cost you 590 DHS at the Skyview Bar while a cocktail at this 180m tall tower is 390 DHS. Phew….. But that's Burj al-Arab. Big and extravagant. Reservations are mandatory so check out the website for the same.
Louvre, Abu Dhabi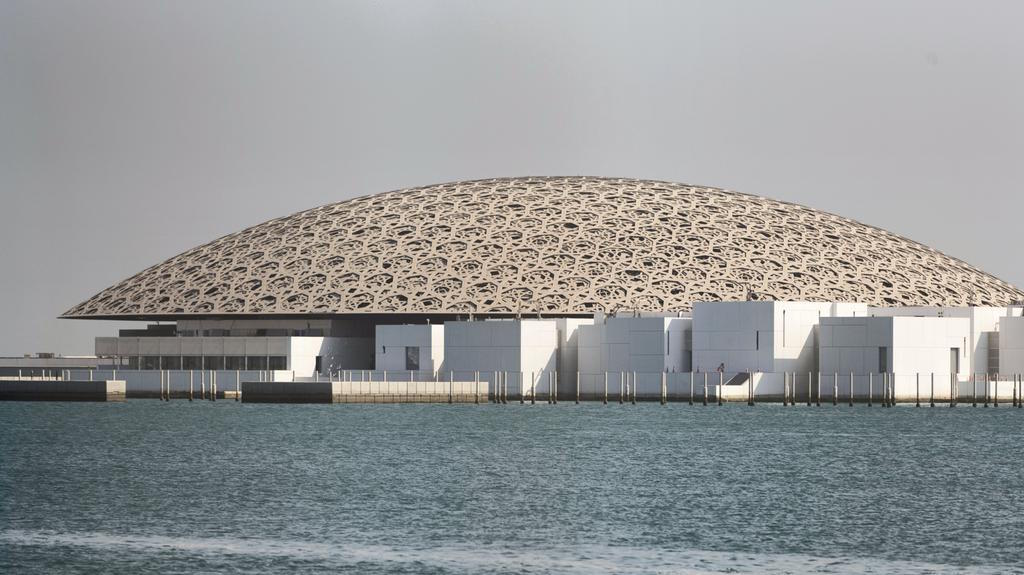 Louvre Abu Dhabi is a gift from Abu Dhabi to art lovers. Louvre, Abu Dhabi is the largest museum in the Arabian Peninsula that showcases world-class collections of artistry. Proudly breaking all norms of traditional museums, Louvre artworks focus mainly on themes and subjects that bridge the gap between western and eastern art. Louvre Abu Dhabi is a joint effort of Abu Dhabi and the French government and is worth billions of dollars. Artworks at Louvre, Abu Dhabi highlight diverse threads of human culture. 12 galleries across an area of 24,000 square metres in size and 8000 square metres in galleries. This is a huge art area to explore. The first villages, civilizations and empires welcome you and take you to The Magnificent of Court sliding all the way to the fountain of lights that take the centre stage. You can expect contrastingly positioned figure of a dragon facing its fate with an archer on the other side. French and Italian royal oil paintings await to make your encounter with them colourful. The highlights include statues from Jordan, black stone statue from Gudea, Buddhist stupa from India, the bronze lion from Spain, Paintings by Picasso, Rothko and Miro. You can spend 2-3 hours absorbing world art in the capital city of UAE. The geometric design of the domes of the museum pays homage to the date palm leaf. Annually four exhibitions are held and there is a café to treat you too.
Tours are daily offered to adults (50 DHS) and kids (30 DHS) from 11am-2pm in English and 5 pm on Friday in French and Arabic.       
Louvre, Abu Dhabi is located on the Saadiyat Island of Cultural district. The Saadiyat beach is another close-by visit you must endeavour. Saadiyat offers public beaches with regular amenities and private beaches with luxurious options. And who knows, you might get lucky if dolphins are willing to meet you at the beach.
If you are planning a trip for Dubai, you can apply for online Dubai Visa here and get Dubai visa in 24 hours.
Burj Khalifa, Dubai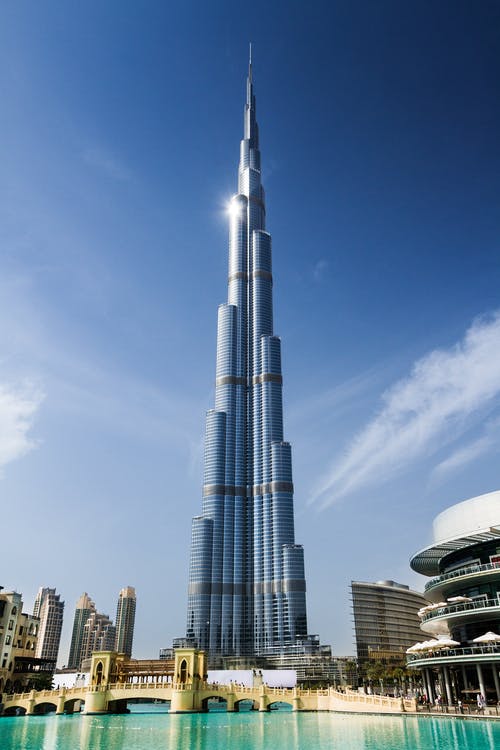 Burj Khalifa is the worlds best engineering and architectural wonder. Worlds tallest building spikes the blue roof at 828m. This stunning piece of architecture has 2 observation decks at 125th and 148th floor. At the 122nd floor, you can savour at a restaurant and a bar. Burj Khalifa exhibits its construction journey. So not only buying tickets in advance is good for your pocket (else it will burn your pocket), you can be a part of the journey of Burj Khalifa since its inception in 2010. Just a few more dirhams and you can raise the bar of the viewing experience of modern Dubai through a telescope. World's highest observation point on the 148th floor welcomes you like a VIP. As the Guest Ambassador smiles at you, soft drinks, coffee and dates await you in a fancy lounge. Apart from the iconic viewing experience, you can fly to various city landmarks by hovering over your hand on the sensor screen. On your way down to the 125th floor, A Falcon's Eye view awaits you to see Dubai from a bird's eye view. (Around sunset prices of tickets shoot up)
Another attraction is the Dubai Dancing Fountains just beside Burj Khalifa. Making curvy moves in sync with Arabic music infused with world music strings, Dubai Dancing Fountain is a must. Water from the fountains whirls gracefully like belly dance and arcs like a happy dance of dolphins. There are other viewpoints like the boardwalk which is priced at 20 DHS just 8.5 m away from the fountain. Nearby restaurants at Souk Al Bahar, the Dubai Mall waterfront terrace or a 25 min Dubai Fountain Lake Ride are some options one can enjoy at this attraction. Check out the timings of the Fountain Dance Show to make sure you celebrate music and wonder perfectly.
2019 will start giving you more surprises as two man-made islands are about to rise beside Burj Khalifa.  
We offer the most simple and easy way to apply for a UAE visa. With minimum document submission and notification at every step of the process, our highly supportive 24x7 chat team keeps you updated.
The Miracle Garden, Dubai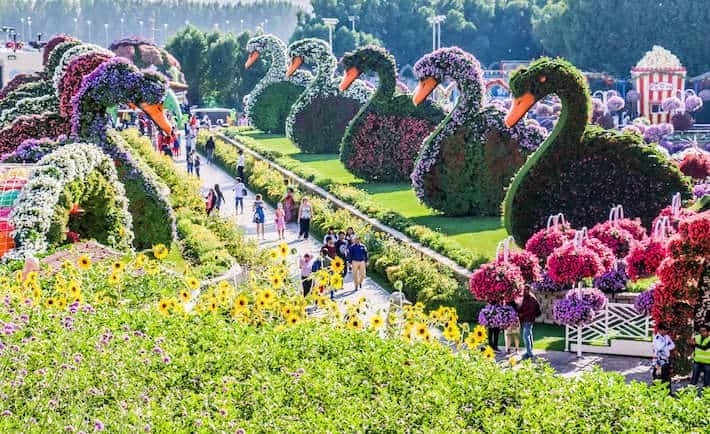 Miracle Garden opened its eyes on Valentine's Day in 2013. Creating colourful tillage amidst dusky dune is a miracle. The Miracle Garden in Dubai leaves you astounded in the same way. The aerial view of the garden resembles a cricket ground. As you move ahead into this serene garden, you will find various natural figures covered with flowers. Miracle Garden is the worlds largest natural flower garden in the world with over 50 million flowers and 20 million plants. Every year from mid-November to mid-May, this patch in Dubai scents to life. The concept of this garden has earned 2 Guinness world records. One for the largest vertical garden in 2013 and the second one for Worlds largest floral structure in 2016. From beautifying animals sculptures and floral formations to erecting and blooming huge Disney characters, Miracle Garden is a blissful watch. Every year this miracle garden reinvents to new miracles for its visitors. Dubai Butterfly Garden is another pit stop in Miracle Garden. It has a separate entry fee to it. It is the worlds largest butterfly garden with 15000 butterflies fluttering in the sand dunes of over 26 species. Butterfly Garden is an incredible treat to watch. Visiting The Dubai Miracle Garden is a learning experience in all.  It will be a delightful experience for your little ones.   
You can hop on with your family in the express bus service that departs every 20 minutes from The Mall of Emirates in Dubai from Sunday to Thursday. Fridays and Saturdays are usually very crowded so if you want a quieter experience, avoid these two days. Excellent café's and restaurants are waiting to serve their amazing cuisine to you.
Al Bastakiya Quarter, Dubai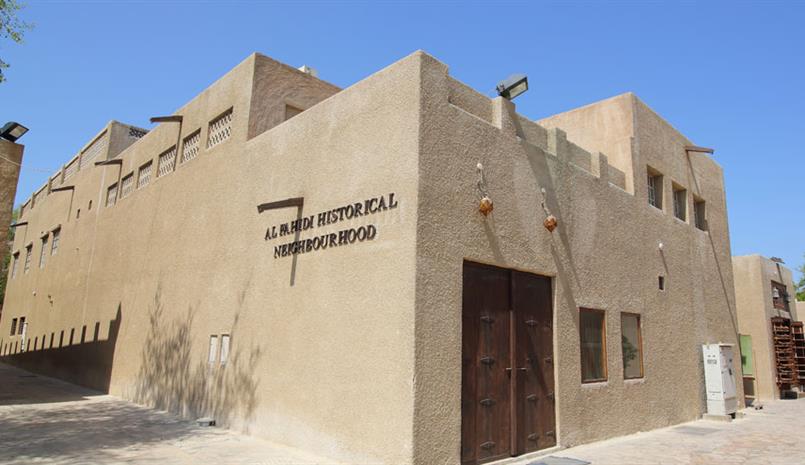 In the middle of the vivacious city of dreams, there is a calm bend to its culture and history. Dubai is a city where the record-breaking skyscrapers depict the future and Al Bastakiya or Al Fahidi Historic District takes you to a ride in the past. Originally, Persian merchants had set up this district and then based themselves in Dubai due to trade attractions. Talking about an interesting fact, Prince Charles highly recommended the restoration of Al Bastakiya which eventually cancelled plans of bringing it down. The walkable avenues of Al Bastakiya with roughed walls speak volumes about the original living standards of Iranian traders. Al Bastakiya is open to all visitors to experience one of the oldest and preserved districts of Dubai. The restoration has given Al Bastakiya new vibes with street art, guest houses, cafes, open street markets, boutique hotels, entertainment options and many more to explore. This historical district has uniquely designed wind towers to keep homes cooler than the outside temperatures. Al Bastakiya is a historic neighbour to Dubai creeks. It's street maze embeds untamed historic flavours. You can find Arabic coffee museum brewing amidst books that narrate its origin. Arabian tea is a high point in the Middle East. It's their pet. At night, restaurants turn into calm and romantic decks. There is so much to explore in Al Bastakiya that you will stumble upon something new and artistically beautiful. Majlis Gallery is another attraction here whose only aim is to promote the work of artists of International standards and become a meeting place of creative minds. XVA Hotel and Café at Al Bastakiya is an award-winning hotel with artistic display and exquisite cuisines. The Sheikh Mohammad Centre for Cultural Understanding is an important attraction which educated people from all nationalities about Islamic culture and tradition. The Coin Museum at Al Bastakiya waits to fascinate you. Mawaheb Gallery is an Art Studio where adults with special needs can develop their artistic skills.           
Al Bastakiya has no entry fee.  Art Galleries and Museums have timings from 10 am – 6 pm. Most of the cafes are open from 7am-10pm. Surrounding attractions are The Dubai Musem, Gold Souk, Spice Souk, Perfume Souk and Al Shindhaga Historic Neighbourhood.
So don't just read. Go and explore a whole new UAE…….