When Mother Nature was in full spirit, she blessed South East Asia with a true gem-Malaysia. When you come across the cities in this super charming den, it has all the urban adventures for you to live. And when you hit the islands, they narrate different stories to live. Malaysia has a 130-million-year-old legacy of rainforests and ancient species.
You will come across many cultures and traditions in this part of the world. Malaysia truly remains a land of natural and cultural pluralism. The ecstatic capital city Kuala Lumpur not only rests with towering skyscrapers but multicultural cuisines to relish for. Not only boutique hotels but Kuala Lumpur has been designated as The World Book Capital for the year 2020 by UNESCO for its prime focus on education, development of a knowledge-based society and increasing the reading ability of the locals.
Malaysia has alluring groups of islands under its belly like Langkawi, numerous cave temples depicting religious beliefs like Batu Caves, Nature Walks, and Hiking at various National Parks and Conservatory Centres. The satellite view of Malaysia is a clear indication of the gifted rainforests and modernization. While visiting this ancient biodiversity country, you are requested to respect the natural habitat of the most unique and endangered species around the world. So that we have the most natural and cultural heritage to give to future generations.
I would love to share my fav spots of attractions and nearby hops in Malaysia.
Is back Pack ready??? Let's go…
1. Sepilok Orangutan Rehabilitation Centre, Sabah, Malaysia – Sacred home to the orange mammals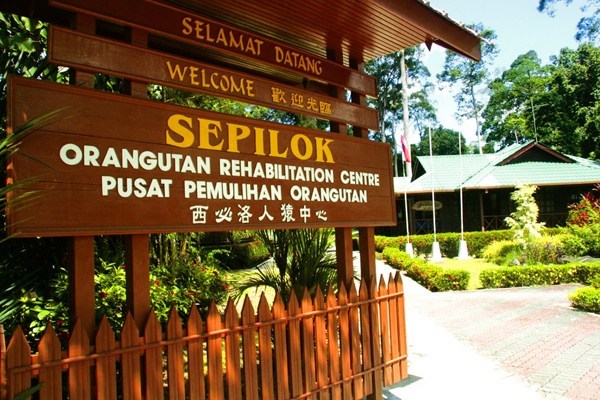 About 24 km from Sandakan is Sepilok Orangutan Rehabilitation Centre that is home to the endangered species of orangutans. Opened its eyes in 1964, this centre functions as a rehabilitation centre just before the little ones return to the forest life. Orangutans who are injured or orphaned are treated here. Around 65-85 orangutans are living here in a hope to flourish ahead. You will come across a feeding platform at the centre where the officials come to feed the orange mammals.
An indoor air-conditioned viewing chamber is built for visitors to sit and catch the sight of natural activities these endangered animals enjoy doing. A stone's throw away is the outdoor nursery where you can see young ones at play. Orangutans are also trained for life skills and other important skills required to survive the dense rainforests of Malaysia.  During the fruiting season, fewer numbers show up to the feeding platform. The moment there is an orange hush in between the trees or you see leaves moving in the air- that's it. It's showtime.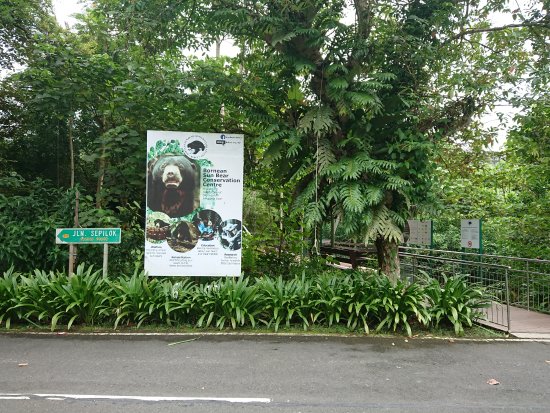 A short steps away is the Sun Bear Conservation Centre and a short drive away is the Labuk Bay Proboscis Monkey Sanctuary. A whole day or maybe a half more is worth watching the efforts made for their rehabilitation before they become history.

Some bits of tips:
Morning feeding times are flocked by tourists esp group tours and is very chaotic. Try catching them in the afternoon.
Morning feeding time is 10 and the afternoon is 3. Feeding time lasts for about 30-40 min.
To get good shots from your lens, hit the feeding spot at least 25 min before the actual time.
No insect repellents in the reserve, please! They are toxic to these creatures. Spray yourself and apply a good amount of sunblock.
Hat yourself, wear comfy shoes and light and airy cotton clothes.
Just opposite the reception is the Nature Education Centre. Here, a video tour is played 6 times a day. It gives a complete insight into what goes into preserving the most endangered species in the world.
There are beautiful places to visit and stay nearby.
Ticket reservation in advance is highly recommended as long queues are witty.
Good cafes and restaurants are based here to feed your cravings.
2. Penang National Park, George Town, Malaysia- Good things come in small packets.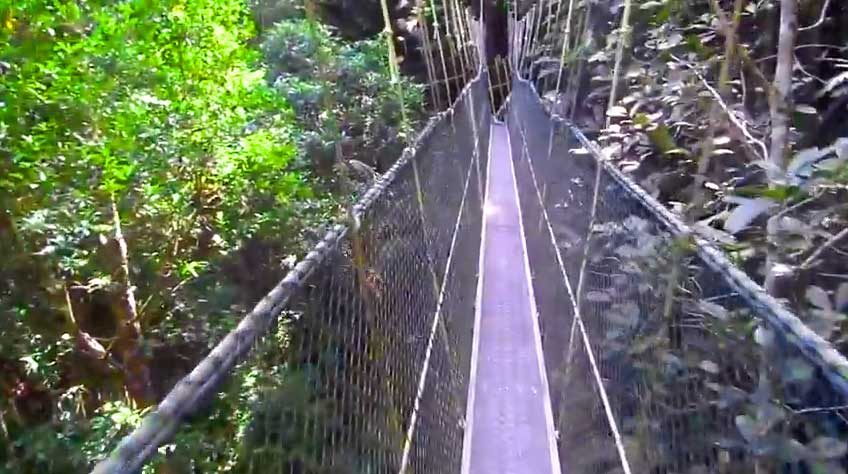 From the historic city of George Town, hop on to Bus route no 101 and you will make your way to the Teluk Bahang to the west. Just a few steps away is the entrance of the park. The entry is free but does get yourself registered at the entrance for your further plan. Towards the east, you have relaxing options such as a dip in the pool while towards the west you have the canopy walk which itself has 2 ways. The famous stops are the Monkey Beach or Teluk Duyung and Turtle Beach or Pantai Kerachut. Why don't you halt for a good suntan time at one of the beaches?  A 19th-century lighthouse towers are high at Muka Head. 
You will be at sight with rocky bonsai, screw pines, and herbal plants. Animals such as macaques, monkeys, green turtles, dolphins are a part of your journey here. You will assess that there is a huge difference in watching animals in the zoo and in natural habitat. A usual sight of meromictic lakes will catch your eyeballs that houses a unique ecosystem. A 40 min walk and you would encounter the longest beach of this park- Teluk Kampi where vestiges of Japanese occupation in WWII evoke the painful memories. A 90 min ferry to Langkawi from Penang National Park will ensure you an epic visit to this paradise.
Some bits of tips:
The entry to the park is free. Registration is for keeping records of who is a part of this dense forest.
Respect the natural habitat and do not leave plastic memories behind.
Wear light and easy to wear leech socks.
The hat is mandatory and grab your sunscreen too.
Hiking essentials are a must to your rescue at this place.
You might find some other guests on the beaches. Stay away.
Cafes are resting at shores to give you the exotic flavour of the Malay island.
You are a visitor here. Do not disturb the residents.
Carry drinking water to keep yourself hydrated.
3. Petronas Towers, Kuala Lumpur, Malaysia- The Malaysian pride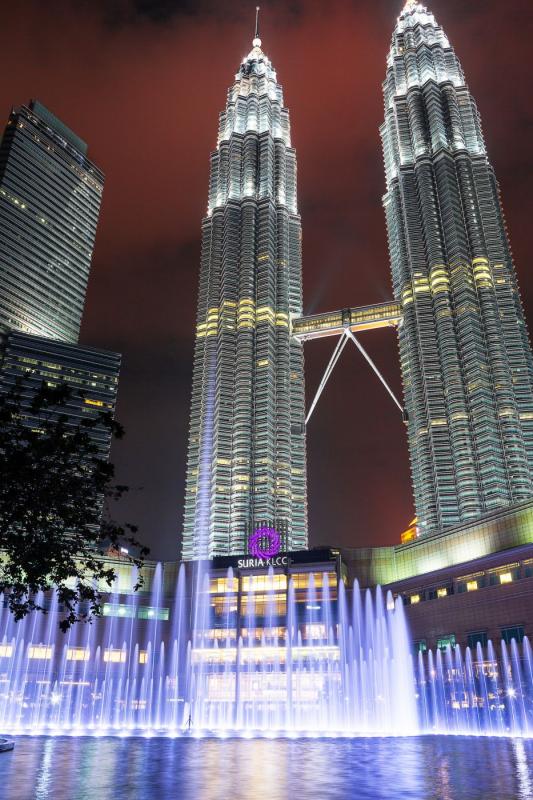 These twin sisters spiking across Malaysian clouds are prominent landmarks not only in Malaysia but in the world. Petronas is the highest twin tower in the world. Boasting about its camaraderie, Petronas is a Malaysian Petroleum company and has its headquarters here in this silver rocket. Emerging as a global commercial centre, Petronas is a neighbour to Kuala Lumpur Towers. Designed in traditional Islamic architecture,  it was a race against time for the pioneers.
Two consortiums were taken on board to finish this project in 6 years and the winner had the privilege to build the iconic sky bridge. The unique umbilical cord connecting the twin towers is a highly engineered deck for the limited number of visitors for the city's top view. Built on a racing track, you will find it worth the entry ticket. The sky bridge is based on sliding concept to brave the high-speed winds of Kuala Lumpur.  Evoking the image of Qutab Minar, The Petronas Towers are home to offices, high-end suites with breathtaking views, shopping malls and entertainment centres. At the foot of the Petronas is an upmarket retail centre KLCC, fully equipped to spoil you. The Observation Deck on the 86th floor is a must hit. This shimmering glass and stainless steel beauty are designed by the famous Argentinian architect Cesar Pelli. Islamic influences are evident in the 5 tiers of each tower as 5 pillars of Islam.
The night beauty of Petronas Towers is contagious. The nearby by hops of Petronas includes street food as well as restaurants serving local cuisine. The vegetarians need not worry as Malaysia takes good care of them. Budget and high-end stays are always ready to embrace you.  
Some bits of tips:
Online booking of tickets is highly advised to avoid long queues and sold out setback.
A hazy day might spoil your viewing experience. So check-in for the climate before booking the tickets.
Do treat yourself at the revolving restaurant in The Petronas. Exotic cuisine with amazing views will make your visit memorable.
After the visit, you can catch up at the movie theatre at KLCC mall for a unique experience.
There are good options nearby for hotel stay and food.
Visiting Days are from Tuesday to Sunday. Monday is closed.
Visiting Timings are from 9 am to 9 pm.
The ticket selling opens at 8:30 am.
Closed from 1:00pm to2:30pm on Fridays.
4. Batu Caves, Selangor, Malaysia- A rainbow of Cultures and Traditions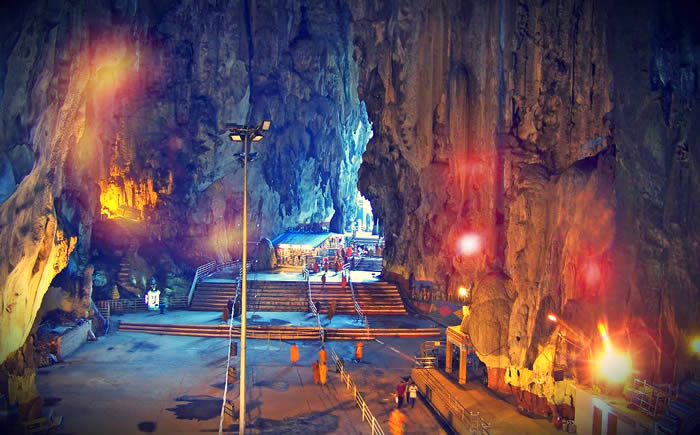 To the north of Kaula Lumpur, stands the world's tallest statue of Lord Murugan. Ornated all in gold and glory, Lord Murugan is a Hindu deity very religiously followed by the Tamils. A 20 min drive from the capital city, Batu Caves are abundant in flora and fauna. Unique species of fruit bats and spiders are residents of these limestone caves. This Malaysian wonder was discovered by an American naturalist William Hornaday. Impressively crafted through the limestone hill, Batu Caves attract thousands of pilgrims every year on the festival of Thaipusam. Many followers carry offerings in attractive looking 'Kavadi', which is a pair of containers balanced on shoulders with the help of a long rod.
A national treasure and an unmissable visit for a day tour, Batu Caves were promoted by an Indian trader. They stretch back to 400 million years ago, a prehistoric era of wonders. These limestone caves harbour Hindu spectacles of mythological nature. With bats fluttering around and aggressive monkeys waiting to snatch a bite from you, these caves are a true epitome of cultural amalgamation. Hiking 271 steps towards the temple, the caves add a delightful experience to your visit. The moment you step in, you will explore a whole new world of Hindu mythology. From the sleeping Kumbhkarana to the execution of Ravana, various colours of statues in all sizes narrate history to you. There are other caves in there. All caves have a different entrance. At the top of the stairs, lies the largest cave i.e. Cathedral Cave or the Temple Cave.  A few steps down is the Dark Cave which might be closed sometimes. At the base of Batu Caves, there are other caves waiting to add excitement to your visit.
Some bits of tips:
There is a separate entrance fee for all caves here.
Visiting Timings: 6:00 am to 9:00 pm
Routes to Batu Caves- Intrakota Bus No 11D from Central Market, Cityliner Bus No 69 from Jalan Pudu.
Taxis are available from anywhere in the city.
For a peaceful visit, avoid going during festival season.
You are expected to dress modestly.
Do not carry any carry bags or water bottles. The monkeys on the way will take it away.
Get yourself vaccinated. This will help if you scratch yourself in a tiff with any animal.
Restaurants and cafes at the base are always ready to pacify your cravings.
Respect the cleanliness factor to maintain the ecosystem of the caves.
5. Blue Mansion, George Town, Malaysia- Most lauded architectural gem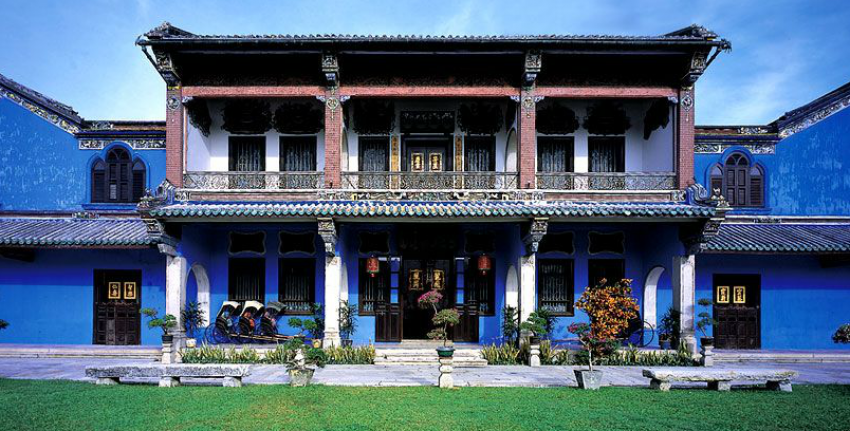 The most photographed building in your visit- Undoubtedly, the Blue Mansion. This magnificent building encapsulates 38 rooms bracketed with 5 breathtaking interior courtyards built in the 1880s. Rescued from the ruins somewhere in the 1990s, Blue Mansion is a Unesco World Heritage site. With boutique hotels and exotic restaurants, Blue Mansion is a must on your itinerary. The interiors of Blue Mansion are decorated with Chinese porcelain, gold leaf, exotic wood, Scottish iron staircases, recherché silk, and delicately carved wood art.
Popularly known as Cheong Fatt Tze, it uses to serve as his residence and business place. This Chinese trader who flipped from rags to riches had commissioned this mansion to his seventh wife. ( What about the others? Haha!) Its peculiar blue-colour is an outcome of an indigo-based limewash. Blue Mansion offers a monochromatic memory with a unique Chinese essence. This world heritage site blends architecture from the opposite worlds. The indigo mansion has added lots of feathers to its accolades cap. The spotlight being UNESCO's Most Excellent Heritage Conservation Award- only Blue Mansion holds this title. This azure bliss is centrally located at 4km from the Gurney Drive seafront promenade, 9km from Kek Lok Si Buddhist temple, and just a 5-minute walk to China Town and other significant heritage spots in Penang.
Blue Mansion continues to fascinate its visitors and residents through its unbeatable hospitality and divine stature. With louvred windows, artistically tainted glasses and designer floor tiles, your visit or stay is bound to memorable.
Some bits of tips:
Booking for the hotel room and suite is recommended online.
Being a heritage site, you will come across curious visitors during your stay. Embrace them.
The Blue Mansion houses good restaurants and cafes to steer on.
Cab rides are available from Georgetown City. But sometimes drivers in Malaysia get cranky on agreeing to go or negotiating charges.
Hour-long guided tours are available to make your journey worthwhile.
Monday-Friday, tours are in English.
Saturday and Sunday are in Chinese too.
Check website for timings.
6. Kinabalu National Park, Sabah, Malaysia- The pinnacle of adventure
Culminated in a ground of wild granite spires, Kinabalu National Park attracts thousands of climbers every year. Toeing up the steep hill through the thick skin of the jungle is not everybody's cup of tea. When the skies are all clear, the Philippines can be visually reached. A dive into the hot springs will be divine. Blessed with a lot of natural healing elements you can relax after taking a dip in the natural pool. A stone's throw away is the blessed orchid garden and butterfly farming site.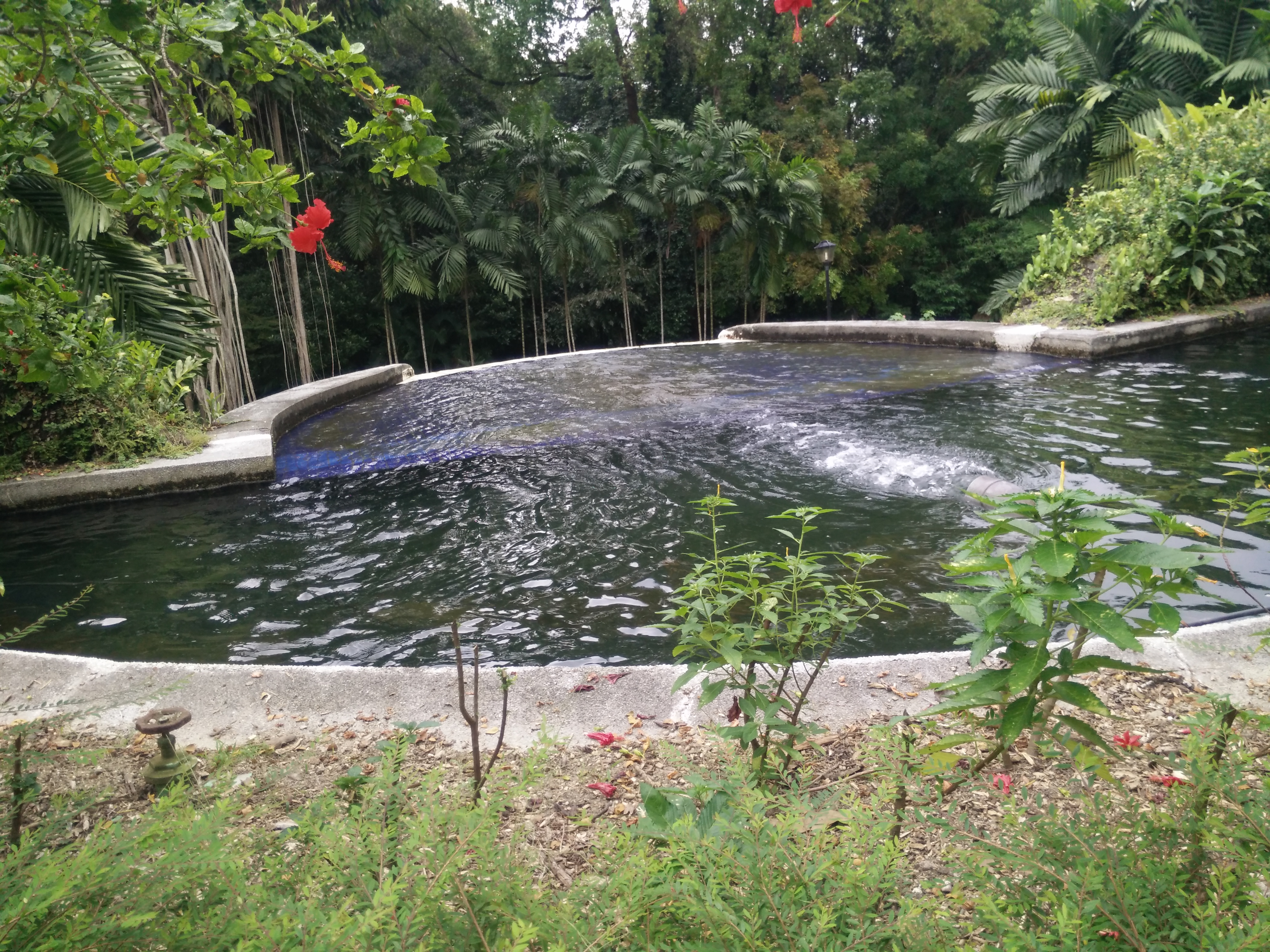 At a distance of 7 kms from the entrance gate of the park is the War Memorial in memory of the British and Australian soldiers who died during the Sandakan March to Death. Beautiful gardens ornated with painful memories adorn the visitors. You will surely spot the world's largest flower 'Rafflesia' on the way. Kipungit Waterfall is a beautiful sight to behold ahead. It is a recommended picnic spot and swimming place. The Kinabalu National Park will never fail to delight its visitors with its natural treasures. A hiking experience will be unique at Mt. Kinabalu. Several types of accommodations are available at the National Park. There are 2 trails to opt from- Ranau Trail and Kota Belud Trail. The new trails might be tough than the old ones.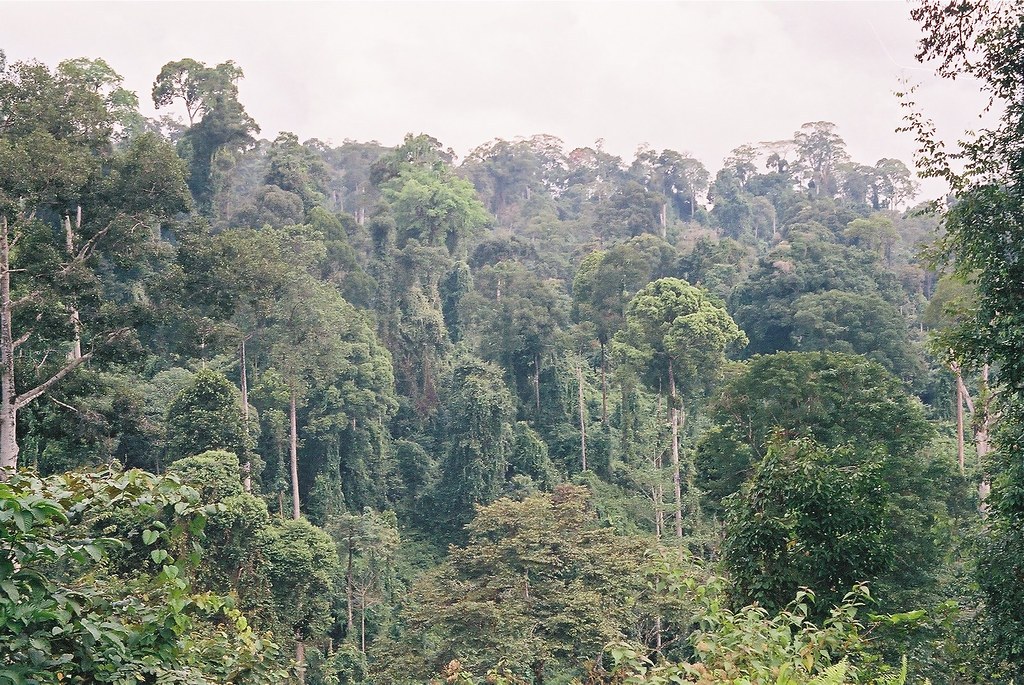 You can drop at the Kinabalu National History Gallery to get aquatinted with the park. Once you descend from Mt. Kinabalu, you can visit Kinabalu city nearby to explore what the city offers. If you are interested in some more exploration, a drive of 4-5 hours will take you to Danum Valley Conservation Area, a world heritage site and an undisturbed forest in Malaysia. At Danum, surprising flora and fauna will leave you awe-struck.
Some bits of tips:
Book your climbing activity at least 6 months in advance as this place attracts many climbers.
Bookings have to be through Sutera Harbor or Sutera Sanctuary Lodges. You will be provided a guide if you wish to go trekking. But you will have to spend a night at the accommodation.
Weather gets chilly because of the great height. Carry warm wear.
The trails are rough so wear the most comfortable footwear.
There are several staying options in the park and around too. Just in case you fall in love with this place and want to spend more time.
This park is a photographers paradise.
Activities include mountain biking, canopy walking, hiking, birding and farm tours.
Grab energy snacks and water with you to fuel yourself.
A torch might help you find a way when lost.
The number of climbers per day is limited to 135 people.
All buses towards Ranau, Sandakan or Tawau will pass by the park.
A number of sharing van options are available along with cab rides from City Centre or Jalang Padang
7. Gunung Mulu National Park, Sarawak, Malaysia- Nature thrilling destination of South East Asia
Famously known as Gunung Mulu World Heritage Site, this park is one of the most majestic nature destinations in South East Asia. Gulung Mulu is one of those few national parks in the world where so many natural marvels are packed into one area. You will witness a myriad of caves abundant with tropical rainforest and geological phenomena. Wind Caves, Clearwater caves, Deer Caves and Lang's Cave are the 4 cave stops to watch out for. Archaeological excavations have proved that these caves have been used for burial purposes 3000 years ago.  
Spreading its wings over 529 sq.km of area, the 2 most famous and visited peaks are Gulung Mulu (2376 m) and Gunung Api (1731 m). The strip in between these 2 points is full of crystal clear rivers, deep gorges, and rough karst mountains and a significant mosaic of habitats supporting incredibly diverse and fascinating forms of wildlife. Gulung Mulu attracts hikers and trekkers from all over the world. The prominent ones being Pinnacles in the form of limestone spires and The Headhunters Trail.
Adventure Caving and Canopy skywalk are the other activities to look out for. Having 480m of an elevated walkway, this canopy walk is the world's longest tree-based canopy walk. To reach Gulung Mulu, a boat ride is available. But ever since a small airstrip is made, reaching Gulung Mulu has become easier and adventurous. Every day at sunset, hundreds of bats living in Deer Cave come out open in the sky in large groups to hunt for lip-smacking treats- insects. The park has set up an area where you can be a part of this spectacular event. Visiting Gulung Mulu easily fits in every pocket.
Gulung Mulu rests on the island of Borneo near the border with Brunei. So you can even reach through a road trip if your boss approves those extra leaves.
 Some bits of tips:
Access to the park is after registration at Park Headquarters at the entrance.
A 5-day pass needs to be purchased at a nominal fee of 30 RM.
A licensed guide will accompany you for your cave visits and adventures.
The Penang community of Batu Bungan sell very attractive merchandise at the park.
A café by the name of Mulu offers good Malaysian dishes. But you will be delighted to dine at restaurants and cafes nearby.
Stays around the park is surprisingly easy and convenient. Local operators run these accommodations and power supply is only at night.
Trekking and hiking essentials should be with you. Don't forget your leech socks and hats.
Cotton and airy clothes are preferred.
 You enter a world of ancient species who have been thriving here from ages. Respect your surroundings.
8. Agop Batu Tulug, Sabah, Malaysia- Ancestors at peace in a limestone cavern
On your visit to Malaysia, you will encounter oodles of caves. And when caves are guarded by limestone rocks, the curiosity to explore triggers your visit. Around 900 years ago, these caves were used as burial places. When disclosed, around 125 coffins were discovered. The name of the cave depicts the resting place of the dead in the rocks. All coffins inside the cave have carvings depicting myths and beliefs of the Kinabatangan community. It is believed that the coffins are of the Chinese craftsman who once was residents of this limestone wonder. This type of funeral culture was brought in by the Chinese.
These caves were discovered in 1984 by P.Breitag, manager of the tea estate of Batu Putig and staff members of Sabah Museum. Since then, the entire archaeological site is maintained and managed by Sabah Museum.  The coffins also relate to different animal species of the Orang Sungai. The animals carved on the coffins are basically categorized into friends and enemies of the deceased. Kinabatangan has a history of flooding and so the resting place was traditionally located inside the caves. These caves are entombed with knives, spears, bells, and gongs.
The steep climb up to 40m of limestone rock paves the way to the entrance of the cave.  Coffins at Agop Sawat have 5 logs of coffins decorated with ox heads visible from the hilltop. More high-end coffins are reserved for the chiefs. On your way to the top, you will come across a small museum narrating the history of these caves. A beautiful example of fully decorated coffin rests there. Your visit to Agop Batu Tulup caves will make you slide to a whole new world of unusual beliefs and traditions.
Some bits of tips:
Your climb towards these caves is steep. Wear good grip shoes and carry less weight.
You need to start your visit with a guide to guard you against any inconvenience.
Visit before or after rainfall as your journey could be disrupted.
Your camera will be your best partner in this visit. These sites are rare to discover.
You are visiting the most important archaeological site. Be careful while stepping on rocks as they have ancient stories to tell.
2 out of 3 caves are open for visits- Agop Lintanga and Agop Sawat.
Respect the location and its surroundings.
9. Christ Church, Malacca, Malaysia- Dutch architecture all washed in red
Christ Church in Melaka is the most recognized landmark in Malaysia. This church is the oldest functioning protestant church in Malaysia. Beautifully blankets of red and orange flowers engulf the chamber of the Lord in Melaka. Raised in 1753 from laterite Scottish bricks, Christ Church is one of the most photographed sights in Melaka and on the second position in Malaysia after The Blue Mansion. Dutch and Armenian tombstones can be seen on the floor logged with long ceiling beams made out of wood.
The church is built in Dutch architectural style with the roof embedded with Dutch-style tiles. The church owns an altar Bible which has a cover made of brass with inscriptions from Passage 1:1 in Dutch. The church bell has the year 1698 inscribed on it, believed to perform other tasks as well. You can also find some interesting translations engraved on the tombstones embedded in the floor of the church.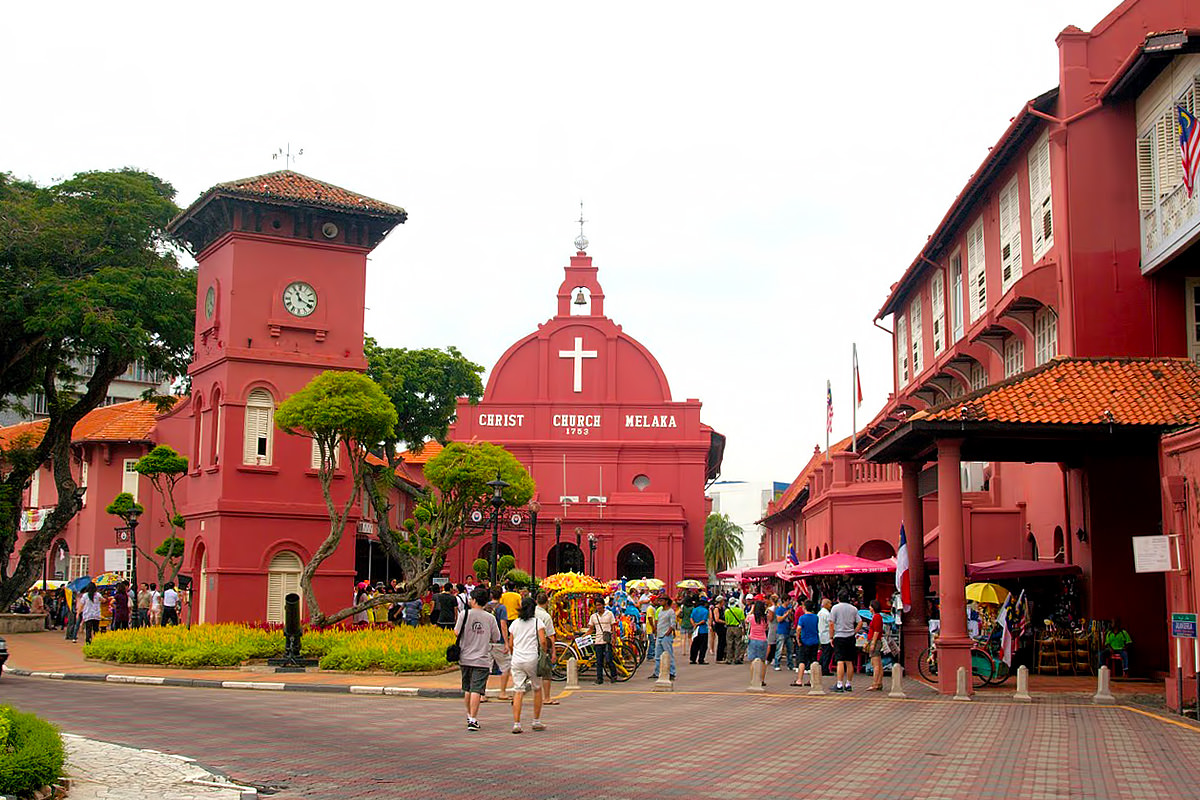 World-renowned painting, 'The Last Supper' is presented in the church in the most creative way. The painting has been created with colourful and glazing tiles instead of paint and canvas. The genuine quotient of the patient is well guarded today. The church is located opposite to Stadthuys, the former official residence for the Dutch government. A beautiful fountain by the name of  Queen Victoria Fountain built by the British is the centre of attraction. Further, there is a windmill that faces the fountain. In such a small area, one can experience the art of architecture that takes you back to the Dutch era. You can find lots of street art on the building in Melaka city to enjoy.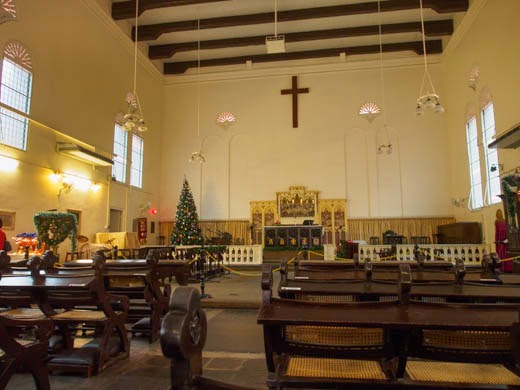 Some bits of tips:
Your visit to this attraction is in a historic city. You can club a lot of your visits as major attractions are nearby.
You are expected to dress modestly for the service
Service is performed only on Sunday from 8:30 am in English followed by other languages.
Bus services and taxi services are easily available in this city to visit the church.
Bus no 17 from the city centre will take you to Christ Church. The moment you see all the shops in red, you're near.
10. Sipadan Islands, Malaysia- Divine dive
A big shout out to this world of blue wonders. Nature has always delighted me. And for explorers and nature lovers, Sipadan Islands is a must. Locate offset coast of Sabah, Malaysia Sipadan Island is the only one in the world that sits 600 m above an extinct volcano. Sipadan is the centre of rich marine habitats in the world. Ancient unique species have taken thousands of years to develop in this part of the world. Sipadan is one of the top diving destinations in the world.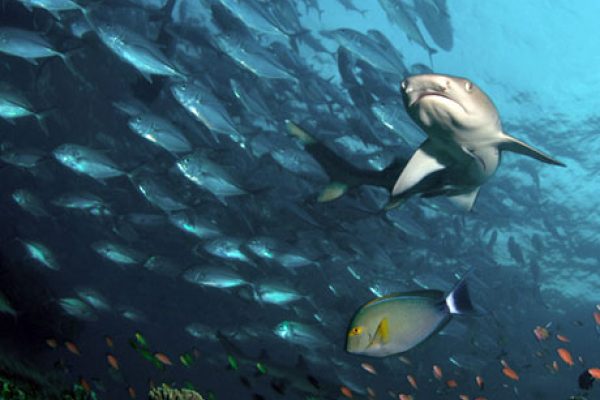 Above 400 species of undiscovered fish, turtles are found inside this blue world of wonders. It is quite harder to visit Sipadan as the permit to access is just 135. To preserve the ecosystem, scuba divers have to stay at nearby islands and seek permission from the Sabah government. At the base of the volcano, one can find enormous turtle caves and limestone caves. For this untouched piece of marine art, you have to stay at nearby Mabul or Kapalai Islands. These islands serve good seafood. The fishing villages often serve as a channel for scuba divers to explore this untouched beauty.
Along with swirling schools of barracuda, roaming sharks and green turtles, Sipadan is a paradise for scuba divers. Sipadan also holds the title of the most unique bird sanctuary. Dedicated bird watchers flock to the island to catch sights of 47 unique species of birds. Sipadan is blessed with thick rainforests ornated with orchids, picture plants, and bromeliads. You will come across colourful explosions of fishes amongst the bountiful corals. The most threatened and endangered species of marine life are well guarded here at Sipadan. It is a celebratory moment when the rare Napoleon wrasse, grouper, or pufferfish are seen. This sight assures that these species have not been hunted or fished out.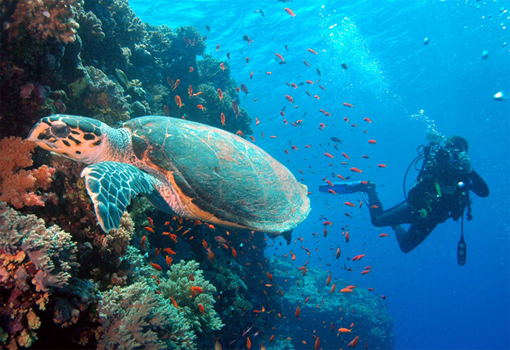 Diving sites spice up the island. At Barracuda Point you can find yourself in the middle of a spiralling vortex of barracudas so big that you might feel clouded out in dark during day time. At the South Point diving site, you'll catch herds of marauding bump head parrotfish, scores of reef sharks, and massive schools of trevally. If the water currents are rich, smaller fish travel in and out which brings bigger fish and even more fish, sharks, turtles, and the occasional whale.
To add unbeatable blue water experience to your travel diary, Sipadan will stand out surely.
 Some bits of tips:
You cant stay at Sipadan. Only you can dive or bird watch.
The nearby island has average stays and good food.
This part of the world is protected under the Sabah authorities.
Strict rules imply as not to disturb the ecosystem.
Queues can get long for scuba diving. A 6 months advance booking is recommended.
Divers at dive points are there to guide you through your blue journey.
Read the review of dive operators before heading towards Sipadan.
Different operators provide different packages for a visit which includes packaged food.
Check permits of dive operators before your booking as some have found to be invalid.
Mabul Islands have a good number of good stays.
Dive operators bring their own drinking water. So should you.
No staying, eating or drinking on Sipadan Island.
Check for updates before planning as this part of the land has made the headline of a dispute between Indonesia and Malaysia.
 Your journey to Malaysia will never exhaust. Nature has blessed this piece of land in abundance which your experience will cherish forever.