Top 5 attractions in Thailand

Swadikhahhh………… Welcome to Thailand
Thailand- is one of those destinations in the world which consumes most of the adjectives to describe its frame. Ornated with Buddha temples, untamed beaches, and unrivaled cuisines, Thailand attracts 20 million tourists every year. But its culture remains unaltered and so does the Thai smile. This crazy chunk of earth engulf all visitors who grace their presence on the Thai land.
Thailand proposes with copious tables, blest spaces, beach sand to mingle with and green to greener forests to get lost. And the answer is…..Yes!
Thailand is blessed with many magnets. Saffron-robed monks, the traditional Thai menu, the hovering local markets, and warmth of the locals- all this is gift packed to convert visitors into story-tellers.
I know your wanderlust is tickling. So I give you the Top 5 Attractions of Thailand:
Here goes….
1. Bangkok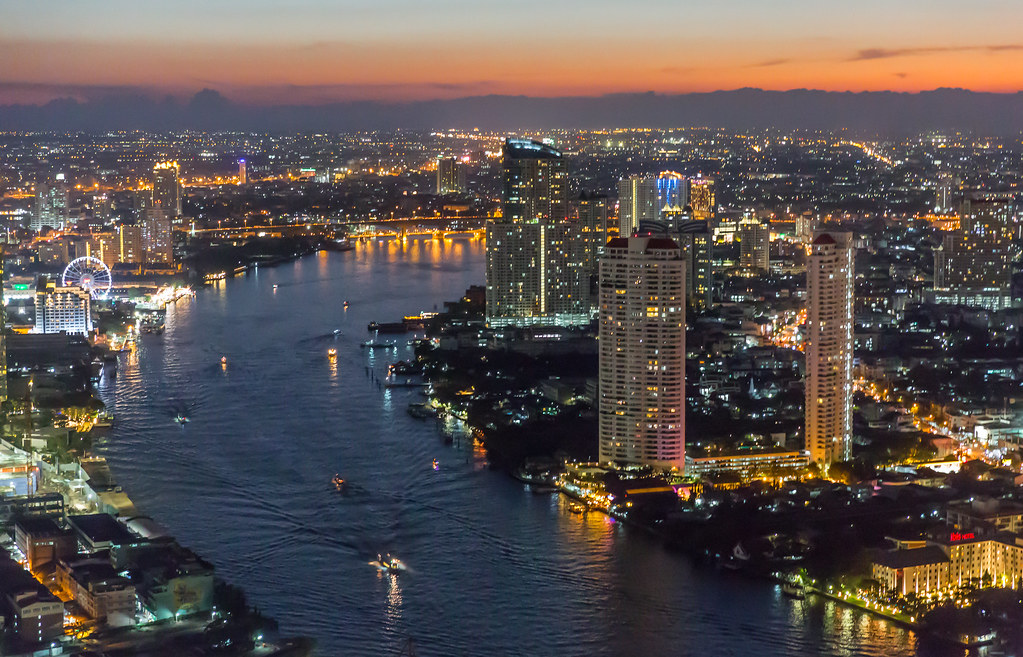 Bangkok tops our list of attractions in Thailand. Why?
It is the best dining destination in the world. If you don't bother about the classy clothed tables, this city is meant for you. Just hit it. And while gazing through the searing noodles being prepared at the street food carts, you will surely end up cracking a conversation with the locals. Sweet, salty, sour and spicy are the four buds on which this foodie city thrives. Even if you don't know the local language, you will connect with the locals. They are full of fun from hanging out on the streets to ordering food to shop in open-air markets. Bangkok is one of those few cities that rewards its explorers. The city awakes with morning alms ceremonies and says goodnight with phantasmic dismaying shows. Long-tail boats detouring slow moving traffic, mega malls beside villages, Buddhist monks shopping for gadgets, gleaming temples alongside lambent shoddy stripes- all contrasts are living in the city of Bangkok. Sukhumvit offers a starry nightlife. Chinatown offers you narrow streets opening to a China Opera house and the Skytrain is another trip on a trip.
This young capital, also known as Siam, is home to Wats (Temple) and royal palaces. Having its roots in Buddhism, one can endear soulful visits to the prominent Buddhist temples, being the city's most important and most visited sights. Wat Phra Kaew is the most sacred temple in Thailand. Be a witness to the Wats where you can pray and seek tranquillity in front of spectacular Buddha statues. Your Royal cravings are well taken care of at The Royal Palace. Museums of Siam await its visitors to educate them with historic events and statues of divine Buddha. The experience is both knowledgeable and brow raising. Bangkok is well connected through air, water and road means of transport.
So all you fun-loving folks, I give you the mantra to kill it…..
Explore…Learn…Live…Repeat!!!!!
2. Phang Nga Bay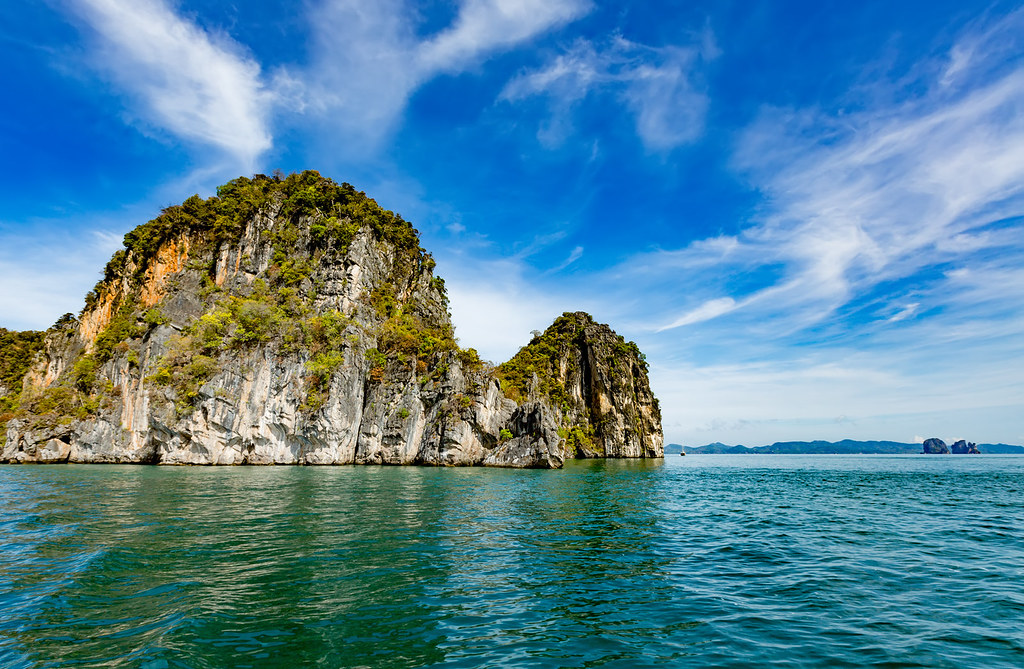 Securing the second place on our list, Phang Nga Bay stretches over the azure belt of Malacca Strait, with Krabi and Phuket as its close friends, Phang Nga Bay opens its arms to embrace caves, forests, unique species, and archaeological sites.
The USP of Phang Nga Bay is that a number of activities are available for you to explore this turquoise gem. Snorkeling, canoeing, visiting National Parks, breathtaking viewpoints, shopping, exploring ancient and historic gems, cruising on charter yachts or speedboats ……….this list is not ending! Phew…..
Resorts at Phang Nga Bay know how to spoil their visitors. The Samet Nangshe Viewpoint is a must to include in your itinerary. Huge limestone rocks towering high in the midst of the Thailand waters boast about nature's architecture on earth. Mangroves in the backwoods of Phang Nga Bay are proud to be the largest in Thailand and await you to explore them. Phang Nga National Park engulfs the famous James Bond Island. It was christened after playing a prominent part in the movie' The Man with the Golden Gun'. Market goers can have a good time at Phang Nga Bay. You can treat yourself with custom-made outfits (shirts, jackets, etc..) at reasonable costs. Both road and water trips complete your visit to this hidden gem waiting to be explored.
Whoops…..Don't forget to shop for handicrafts at Koh Paynee.
3. Khao Yai National Park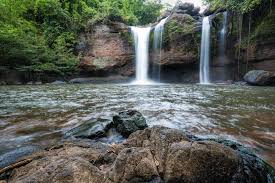 Perfectly placed 3rd, Khao Yai is the most visited and the second largest National Park on the Thailand diaspora. Khao Sai has one of Asia's largest monsoon dons monsoon forests. Thus, a UNESCO World Heritage Site. Most of Thailand's wild elephants are found here. The size of the national park does not top visitors to explore and live with the diverse creations of nature. With over 3000 species of plants, 320 bird species, more than 20 mammals and a huge family of gibbons, bears and gaurs and gibbons thrive in this lap of nature.
If animals can, I can't understand what's wrong with humans???
It is ornated with the famous waterfalls Heo Naruk and Heo Suwat. Offering a life support system to such a huge belt of life, the flora and fauna are the richest here. Khao Yai is fairly mountainous with our ancestors swinging across the ropes of the lushly dense forest.
From wildlife walk to waterfall huntings, you would love to spend days close to Mother Nature.

4. Khao Sok National Park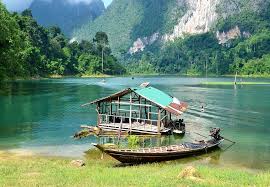 Resting at the fourth position and close to the Andaman Sea, Khao Sok National Park is beautifully located in Southern Thailand. Easily accessible services are available from Krabi, Phuket, Surat Thani, and Khao Lak. Home to the most beautiful species of birds and animals, this national park is one of the finest in Thailand. Khao Sok houses maximum waterfalls during the rainy season. Giant bats with even gigantic wings and creepy tarantulas give a dramatic introduction to wildlife. The greenest rainforest of Khao Sok is the oldest in the history of mankind. Whopping gibbons and glinting hornbills are residents of the rich flora and fauna in Khao Sok. Giant bamboos create trails for you to walk through nature. You can independently walk through the park after seeking guidance from the park headquarters. But local guides will make your experience go awe-spiring.
This secret green carpet is an easy getaway. With more than 300 species of birds tweeting here and long-tailed langurs swinging from one branch to another, nature is at its best at Khao Sok.
Megabats? Yes…Megabats are a vision during night safaris.
The largest flower in the world, Rafflesia Kerrii, grows in Khao Sok. When in full bloom, trips are organized especially for this visual wonder.
In the middle of Khao Sok is a blue gem- Chiaw Lan Lake. You can unwind here while swimming and watching Raft Houses. Chian Lan stuns your view and surprises you with all the colors of nature. Huge mountains rising from the lake makes the sight simply incredible.
Remember, we as visitors are responsible to preserve such blessed pieces on earth for our future generations to come.
5. Phi Phi Islands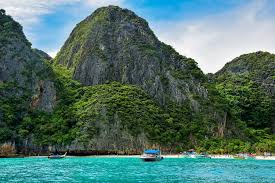 Standing with its untamed beauty at the fifth position, Phi Phi Islands is a collection of white sand pit stops in Thailand. Sandwiched between Phuket and Strait of Malacca, Phi Phi is a group of 6 islands. The prominent islands are Phi Phi Don and Phi Phi Leh. Phi Phi has been a rockstar as this destination has beautified many movies. The islands go up like a fortress when approached through the water. Scuba diving, snorkeling, cruising, beach hopping, shark watching and the vibrant nightlife, hiking, Thai cooking classes, rock climbing, soothing spas – all of this makes honeymooners fall in love again, together. Hat Nopparat Thara-Ko Phi Phi National Park houses abundant marine life and corals. To the southwest of Phuket Island, Phi Phi boasts about being one of the most beautiful and natural destinations in the world.
No one can judge that this destination has raised so strongly and wonderfully after the Tsnaumi havoc.
I believe the above words are enough to just pack your bags and leave for this spectacular country and we will take care of the rest.